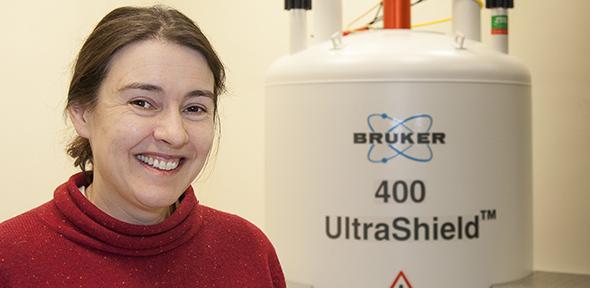 Image: Department of Chemistry Photography
For her work in developing longer lasting, higher energy density and cheaper rechargeable batteries, our colleague Professor Clare Grey has won an Advanced Grant from the European Research Council (ERC). 
The ERC is Europe's premier research funding body. Clare is one of five University of Cambridge researchers to win one of these grants.
ERC grants are awarded through open competition to projects headed by starting and established researchers, irrespective of their origins, who are working or moving to work in Europe. The sole criterion for selection is scientific excellence.
ERC Advanced Grants are designed to support excellent scientists in any field with a recognised track record of research achievements in the last ten years.
Clare Grey is Royal Society Research Professor here. She leads a project focused on the development of longer lasting, higher energy density and cheaper rechargeable batteries, one of society's major technological challenges. Batteries are currently the limiting components in the shift from gasoline-powered to electric vehicles.
New batteries are required for transport applications and for storage and load-leveling on the electrical grid. These batteries should be capable of being charged and discharged faster, and should store much more power, than the batteries currently available. This requires the development of new electrode chemistries and an understanding of how these systems function. 
Using a variety of experimental techniques, including dynamic nuclear polarisation NMR spectroscopy, Grey and her team will explore a variety of different battery chemistries, including more traditional lithium-ion and newer solid state and redox-flow batteries, with a particular focus on understanding the interfaces and interphases that form in these systems.
The interdisciplinary project combines analytical and physical chemistry, materials characterisation, electrochemistry and electronic structures of materials, interfaces and nanoparticles. The final result will be a significantly improved understanding of the structures of new types of batteries and how they evolve during the charge-discharge cycle, coupled with strategies for designing improved battery structures.