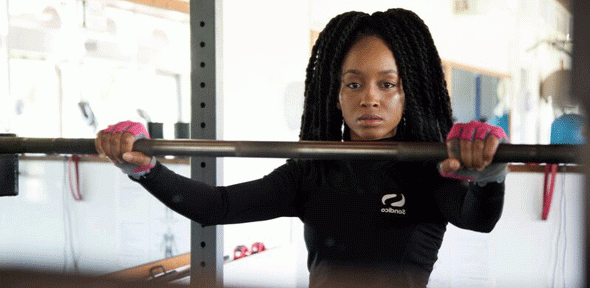 PhD student Jerelle Joseph in the gym at Churchill College (photo: Nick Saffell)
Congratulations to our PhD student Jerelle Joseph who has jointly won the sixth annual Bill Gates Sr. Award in recognition both of her outstanding research and her social leadership.
Jerelle is already a Gates Cambridge Scholar. She was chosen to receive the Bill Gates Sr. Award by her peers for her outstanding academic abilities (she has published several papers while at Cambridge); her work as Social Officer for the Gates Cambridge Scholars Council, including her generous support for incoming scholars; and her absolute commitment to her country and to the wider Caribbean community.
"As a person, Jerelle is one of the best Gates Scholars I know."
Jerelle and her husband have set up CariScholar, a not for profit mentorship programme which aims to connect students with successful professionals and academics in the Caribbean. In addition, she overcame her own personal grief at the impact of Hurricane Maria on Dominica and responded by setting up a charity event to raise money and supplies for the relief effort. This engaged a huge part of the Gates community and Jerelle flew back and forth between the Caribbean and the UK to deliver supplies and help with the relief effort.
She has won the Bill Gates Sr. Award jointly with Arif Naveed who is doing a PhD in Education, asking whether the current education system in his native Pakistan needs rethinking to ensure it responds to local priorities.
One nominator wrote: "As a person, Jerelle is one of the best Gates Scholars I know. She is the rare example of a person who is able to be (and often is) the life of a party, but prefers to remain sharply independent of the crowd, never failing to push for her beliefs when necessary and never following any person or idea blindly. This, in my mind, is the mark of a true leader."
Jerelle's PhD project here in the Department of Chemistry looks at folding in proteins on a microscopic level. "I study how and why proteins take on different structures to fulfil different functions. It's fundamental science. I'm making just a small contribution to our understanding of what happens when folding goes wrong, which is one of the underlying causes of devastating conditions such as Alzheimer's disease."
Jerelle was profiled in the Winter 2016 edition of Chem@Cam magazine, along with her former supervisor, Professor Sean McDowell from the University of the West Indies in Barbados, an alumnus of this department.