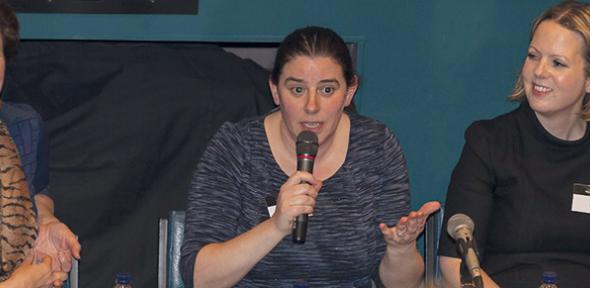 Image: Department of Chemistry Photography
Many questions – on women-only prizes, the role of job sharing in academic research and how to overcome imposter syndrome – arose at our 2019 Women in Chemistry alumni event, as you can see on our new video.
We shot the footage earlier this year when alumni came to celebrate the achievements of women in chemistry, and discuss the significant issues that still face women in the scientific workplace.
Alumni returned to the department to share their stories about what had helped – and hindered – them as they pursued careers in chemistry and related areas. Then at a 'Question Time'-style debate, questions from fellow alumni, postdocs and graduate students came thick and fast.
Key topics
Do women-only posts/prizes advance or hold back the serious integration of women in science? How do women handle inappropriate comments and still show respect? And how do we change recruitment and funding in academia to provide a level playing field?
The event was held in support of the United Nations International Day of Women and Girls in Science, a day created to help achieve full and equal access to and participation in science for women and girls.
Talking with an openness that was much appreciated by attendees, eight speakers discussed positives – like the female scientists who inspired them – and challenges, such as those of combining careers and parenthood.
Many mentioned experiencing imposter syndrome, including when they were returning to work after a career break. They revealed how they had arrived in their chosen fields (which ranged from academic research and teaching to law and scientific publishing); how they had achieved their current positions, and how mentoring and leadership programmes had helped them and could help others. A panel of speakers from the morning, alongside alumni and current postgrads and postdocs, then took part in a 'Question Time'-style debate that picked up on many of these issues.
Inspiring stories
It was the first time we have run an alumni event of this type and we received a very positive reaction.
As alumna (and senior patent director) Sally Curran told us: "There were some inspiring stories from staff and alumni on tackling new challenges and overcoming adversity, interspersed with advice gained from (sometimes bitter!) experience in both academia and industry. I left feeling energised and with a renewed sense that we are fortunate to be a part of the department's diverse community."
We are now planning next year's event. Watch this space for more information.