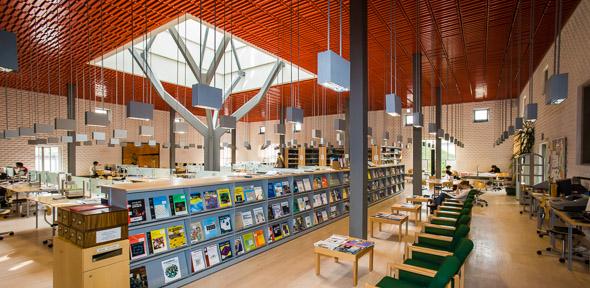 Chemistry library, courtesy Nathan Pitt, ©University of Cambridge
Wednesday, August 30, 2023
We congratulate the PhD and Masters level outstanding thesis awards for 2022 and 2021.
This year the postgraduate office awarded the Outstanding Thesis Awards to 14 students of Masters and PhD level who had submitted an outstanding thesis. We congratulate these students for this considerable achievement that marks their excellence, dedication and commitment. The 2021 and 2022 cohort were awarded at the same time due to COVID-related delays.
PhD Thesis 2021
Althorpe group: Raz Benson for Path-integral studies of quantum statistical effects in vibrational spectroscopy.
Archibald group: John Staunton Sykes for The impact of volcanic halogens, climate change, and sulfate aerosol geo-engineering on the atmospheric effects of volcanic eruptions.
Gaunt group: Henry Blackwell for Visible-light-mediated synthetic strategies for the synthesis of α-tertiary amine derivatives.
Grey group: Michael Jones for Local structures of niobium-containing cation-disordered rocksalt materials: cobalt-free cathodes for lithium-ion batteries.
Spring group: Abigail Hanby for Synthesis of a diverse and three-dimensional fragment collection and the development of a novel platform for antibody dual functionalisation.
Spring group: Hikaru Seki for The development of vinylheteroarene linkers for proteinogenic cysteine modification and studies towards applying (+)-discodermolide as a novel payload in antibody-drug conjugates.
PhD Thesis 2022
Bender group: Layla Hosseini-Gerami for Using biological and chemical information to improve understanding of drug mechanism of action on the systems-level.
Clarke group: Alexander Fellows for Using Vibrational Laser Spectroscopy to Study Biologically Relevant Interfaces.
Goodman group: Alexander Howarth for Quantification of Molecular Structural Uncertainty Through Automated Computational Analysis of NMR Spectra.
Grey group: Euan Bassey for Magnetic Resonance Studies of a Sodium-Ion Battery Cathode: Experiment and Theory.
Jenkins group: Sabine Matysik Dynamics of adsorption and desorption on chiral surfaces.
Knowles and Dobson group: Matthias Schneider for Physico-Chemical Characterisation of Disease-Related Protein-Protein Interactions in Solution.
Masters Thesis 2021
Scherman group: Hannah Lockett for Electrostatic self-assembly of semiconductor nanoparticles mediated by charged redox-active molecules.
Masters Thesis 2022
Vendruscolo group: Christine Lim for Target identification for human diseases linked to protein liquid-liquid phase separation.
Dr Aruna Edwards, Postgraduate Education and Admissions Manager, said: "The Outstanding PhD Thesis Award at the Department of Chemistry was first established in 2017 followed by the Outstanding MPhil Thesis Award in 2021. This award has been established to encourage and recognise the best doctoral and MPhil research students who submit a thesis each calendar year. There are a limited number of prizes each year and each successful candidate also receives a monetary prize for their achievements. Congratulations to all of our award winners to date."