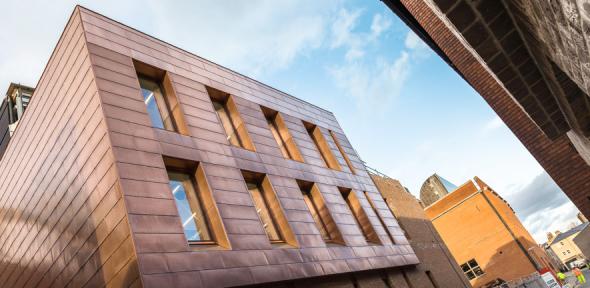 Researchers are now moving into our new Chemistry of Health building – a state-of-the-art space for the study of neurodegenerative disorders such as Parkinson's and Alzheimer's diseases – which is just being completed.
The new 2,600sq m facility was officially handed over in June 2018. It will house the Centre for Misfolding Diseases, a centre dedicated to studying the misfolding of proteins in human cells - a phenomenon that causes a number of disorders including Alzheimer's, Parkinson's, Huntington's and motor neurone diseases.
It will also be home to a Chemistry of Health Incubator, and the Molecular Production and Characterisation Centre (MPACC).
This brand new £24 million facility will promote the translation of fundamental research into clinical and commercial applications. It received a grant of £17.6m from the UK government's Research Partnership Investment Fund after the department secured twice this amount in contributions for the building and the research activity it will enable from industrial, charitable and philanthropic sources.
Among the philanthropic contributions to the project is a donation of £5 million from Mr R. Derek Finlay in memory of his wife, Una, who died of Alzheimer's disease. 
"Preventing and treating Alzheimer's disease and other neurodegenerative conditions are huge challenges and this building will really help our work." Professor Sir Chris Dobson
Professor Sir Chris Dobson, whose research into protein misfolding has helped bring vital advances in our understanding of the disorders caused by this phenomenon, says: "Preventing and treating Alzheimer's disease and other neurodegenerative conditions are huge challenges and this building will really help our work.
"It will house the labs where we conduct fundamental science, as well as Wren Therapeutics – a drug discovery company founded to take our therapies into human patients. We are very lucky to have it, and very grateful for several extremely generous donations that made its construction possible."
Professor Tuomas Knowles, Co-Director of the Centre for Misfolding Diseases, says: "The interdisciplinary environment and state-of-the-art infrastructure provided by the Chemistry of Health Building will be crucial in helping us tackle the challenge of understanding, at a fundamental level, the molecular mechanisms underlying dementia and develop effective ways to counteract them."
Professor Michele Vendruscolo, Chemistry of Health director and co-director of the Centre for Misfolding Diseases, "A wide range of human diseases, including in particular neurodegenerative conditions, require the development of innovative and highly quantitative biophysical and biochemical approaches. This is our mission and with this new building, we have now the ideal conditions in place."
The MPACC, also housed in the new building, will provide an array of modern biological and bio-physical facilities to research groups in the department and throughout the university. And the Chemistry of Health incubator will support businesses spun out from the ongoing health research.
Head of Department Pofessor John Pyle says: "It's been a long process of planning, fundraising and managing the building activity. Now this new facility is in place, I am looking forward to seeing the great research that ensues over the coming years."
The Chemistry of Health building will be officially opened later this year.