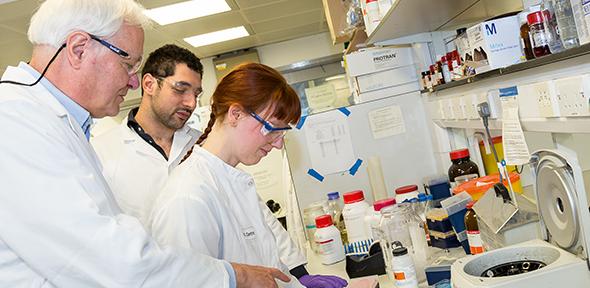 A leading reseacher whose work has helped bring vital advances in our understanding of Alzheimer's and Parkinson's diseases has received a knighthood in the Queen's Birthday Honours.  
Our colleague Professor Christopher Dobson, Professor of Chemical and Structural Biology here, was awarded the knighthood for his contributions to Science and Higher Education.
Head of the Department of Chemistry Professor John Pyle says: "I am sure everyone here joins me in congratulating Professor Chris Dobson on this well deserved honour. It's a recognition of his fantastic contribution to science."
Sir Christopher is one of the world's leading scientists working at the interface of the physical and biological sciences. In 2013 he co-founded the Cambridge Centre for Misfolding Diseases where researchers work on analysing the origins of neurodegenerative conditions - such as Alzheimer's and Parkinson's diseases - which occur because of 'misfolded' protein molecules. The experimental work by Sir Christopher Dobson and his inter-disciplinary research team has led to remarkable breakthroughs in the field.
He was interviewed about this work, and the resulting new approaches to halting such disorders, in the spring issue of Chem@Cam magazine.
Sir Christopher, who is also Master of St John's College, said he was astonished to have been made a knight. He dedicated the honour to his students and scientific colleagues.
Saying that he was "humbled" to receive the honour, he added: "It would not have been possible without the brilliance and dedication of my students and scientific colleagues over many years, whose commitment to improving the lives of those suffering from Alzheimer's disease and other neurodegenerative conditions is deeply impressive."
"It also recognises the commitment of the University of Cambridge, and the UK Higher Education sector in general, to educating to the highest possible standards the most able and deserving students on whose shoulders the future of the world depends."
Professor Tuomas Knowles, a co-founder of the Centre for Misfolding Diseases, said: "Sir Christopher's landmark discoveries over the past 30 years have truly transformed our understanding of misfolding diseases. His work has had enormous influence throughout the physical, biological and medical sciences, establishing new connections, and generating wide-reaching implications for molecular medicine.
"It is wonderful that such an eminent scientist and influential and inspiring leader has been recognised with this honour."