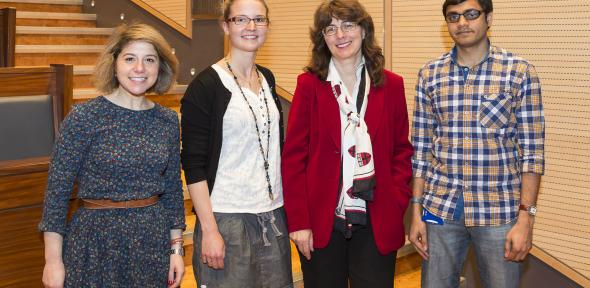 "Move out of your comfort zone to further your career, think out of the box"
"Start early with grant proposals because work gets more time consuming the further along you are"
"Mentoring does not mean to give a project, but to help someone find their own project and to teach what it means to do research."
These were the three key pieces of advice given by Professor Joanna Aizenberg from Harvard University, who shared her experiences on career progression with graduate students and postdocs before delivering her talk as the Department's 2015 Lewis Lecturer in May.
Don't get too comfortable
"Thinking out of the box, orthogonal to standard view, is the most important aspect of successful research," said Prof. Aizenberg. She believes that moving out of the "comfort zone of science" after completing a PhD helps to create originality in research--one of the central questions she asks to potential group members is: "How is this programme different from what you have done before?"  
Responding to a question on the influence of mentoring and supervision on her career, Prof. Aizenberg said that successful students and postdocs come from well-mentored groups.   Her advice is to search for a position where you can learn those skills that are missing from your previous job or studies.  She also emphasized that it is important for graduate students to do what excites them.
From industry to academia
Prof. Aizenberg moved to Harvard 8 years ago from Bell labs, and leads a research group of 50 members. Her early education and career took her across multiple continents and cultures from Russia to Israel to the United States, giving her extensive research expertise in both academia and industry. 
Prof. Aizenberg's research sits at the interface of different fields, and she believes that an interdisciplinary approach and a multi-cultural and diverse team is key to the future of scientific research. She values the diversity in her research group, and says the personal and professional relationships between the group members is very significant to the performance and work-culture in the team.  In fact, personality is likely to be her number one criterion for potential positions in her team. 
Work-life balance 
Regarding the key challenge of work-life balance, she mentioned that however difficult it might be, we should strive to find that balance in our lives. This not only encourages a happier work culture and better handling of stress, but also pushes us to be much more organized in both professional and personal commitments. She said that universities have now started to understand the value of a good work-life balance and are implementing new rules supporting this cause.
To another question on career coordination with your partner, she acknowledged that this is "not the easiest thing to achieve". However at various stages of life, we will have to prioritise career and personal life accordingly. To help with this, she suggests that PIs can specifically request in their letters of recommendation any possible assistance for the candidate's partner as well.   Prof. Aizenberg said that her husband also works in the field of Chemistry, and that she enjoys spending time off with her children (whom she had very early in her career) and 2 grandchildren.
The high attendance and active participation during this informal and interactive session suggested that both the graduate and Postdoc communities valued this Q&A time with Prof. Aizenberg and we hope to make similar events with key speakers visiting the Department a regular feature.
Photo from left:  Dr Laura Carro-Santos, Ines Heimann, Prof Joanna Aizenberg, Krishna Chaitanya Bulusu