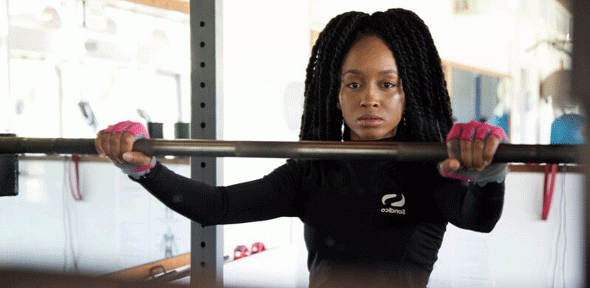 PhD student Jerelle Joseph in the gym at Churchill College (photo: Nick Saffell)
Tuesday, October 10, 2017
Jerelle Joseph wasn't sure she wanted to leave Dominica to take a PhD in Computational Chemistry in chilly Cambridge. Now she runs a mentoring scheme to encourage others from the Caribbean to pursue their ambitions.
PhD student Jerelle is profiled in the University's online magazine, This Cambridge Life. She describes how, at the prompting of her MPhil supervisor, Professor Sean McDowell, she left her home in Dominica to come to the UK to study for a PhD in Computational Chemistry.
That was back in 2014 - and she describes her first impressions of the UK as 'cold and dark'. "I didn't know how to dress warmly ," she says, " and I didn't realise that eventually summer would arrive with long sunny evenings."
But she has grown to love the University and the community of learners here. "Being among so many bright people is incredibly stimulating — and I've had brilliant support." And now she is helping other students from the Caribbean. "A few months ago, I set up a mentoring scheme called CariScholar to help aspiring scholars from the Caribbean reach their potential. So far, we've matched about 40 people with mentors — all from the Caribbean."
Jerelle's PhD project here in the Department of Chemistry looks at folding in proteins on a microscopic level. "I study how and why proteins take on different structures to fulfil different functions. It's fundamental science. I'm making just a small contribution to our understanding of what happens when folding goes wrong, which is one of the underlying causes of devastating conditions such as Alzheimer's."
She says that "leaving the Caribbean was a difficult decision. I was very hesitant about being separated from the people and places I loved." But, she says, her former supervisor was right: "Cambridge is a wonderful experience."
Jerelle was profiled in the Winter 2016 edition of Chem@Cam magazine, along with her former supervisor, Professor Sean McDowell from the University of the West Indies in Barbados, an alumnus of this department.