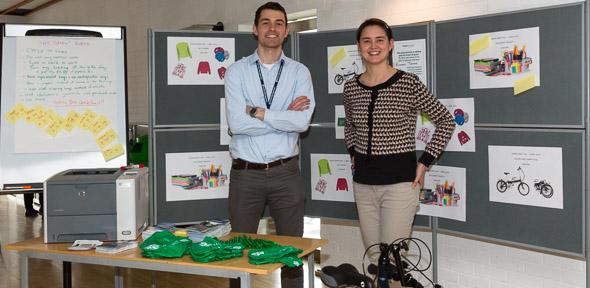 Image of postdoc Michelle Cain and University of Cambridge Environmental Coordinator Peter Lumb courtesy Gabriella Bocchetti, Department of Chemistry
The department held a Green Impact Day on Friday 1 April, with activities designed to encourage department members to think of creative ways to reduce their carbon footprint.
The 'folding bike challenge', in which people competed to assemble/dismantle a folding bike in the quickest time possible, seemed to be most popular.  Ricardo won in 37.28 seconds, while Head of Department John Pyle took a respectable 1:26.1 to complete the task.  All participants received a bicycle saddle cover.  Other activities included wearing a silly jumper (to remind people to save energy) and providing a 'stationery amnesty' to allow people to share unused stationery items that would otherwise be thrown away.  
Department members also added their own ideas about reducing environmental impact to the "Green Board".  Ideas included:
Use jugs of tap water instead of bottled water in meeting rooms

Use cloth shopping bags instead of plastic ones

Read electronic journals, not printed ones

Travel to work by walking or cycling

Have more info on how to recycle plastic at work
These ideas can now be used by the department.
The Green Impact scheme is an environmental accreditation scheme originally developed by the National Union of Students.  The department is working toward its Silver accreditation, concentrating on areas such as communication, training and raising awareness on how to act more sustainably.
The scheme is implemented here by the Environment and Energy section of the University of Cambridge, and supports and encourages departments and colleges across the University to reduce their environmental impact.