Courtesy Abdullah Kattineh
Thursday, August 16, 2018
Syrian teenager Abdullah Kattineh is determined to find a cure for Alzheimer's by studying chemistry in Cambridge.
Syrian teenager Abdullah Kattineh's determination to find a cure for the Alzheimer's that has ravaged his grandmother's life inspired him to battle power outages, study by candlelight and pore over international chemistry papers on the tiny screen of a battered mobile phone, so he could win a place to study chemistry here.
Kattineh has received a fully funded scholarship from the Cambridge Trust and Corpus Christi college to start his undergraduate studies in Chemistry here in October.  He will be enrolled in Natural Sciences, which is the framework within which Chemistry and other science subjects are taught at Cambridge.  "I was attracted to Corpus Christi for the fact that Dr Ben Pilgrim is there," said Kattineh, citing Pilgrim's PhD thesis as a major influence on his choice of university and college. Ben Pilgrim is a Herchel Smith Research Fellow here in the Nitschke research group.  (Ben's thesis was on "Novel Palladium-Catalysed Routes to Aromatic Heterocycles").
"My grandmother has Alzheimer's disease and I am afraid there is a huge possibility my father will have it too," Kattineh told the University by Skype this week. "I intend to develop new compounds that would cure popular diseases like Alzheimer's and Parkinson's."
On a day when Sixth Form students across the United Kingdom celebrate the results of their own trials at A-Levels this year, Kattineh talked of how he battled regular power cuts in his hometown of Tartous on the Syrian coast, poverty as a result of the ongoing war in Syria and studied 18 hours a day, sometimes only on a four-inch (10 cm) mobile phone screen, to win his place.
After a struggle to find a scholarship for his studies, a crowdfunding effort to raise funds and finally a public campaign from Cambridge students brought him to the attention of those who could award him a scholarship, Kattineh's dream came true.
"There was magnificent support from the students of Cambridge and I am very grateful for that," he said. 
The news that he would receive a fully funded scholarship from the Cambridge Trust and Corpus Christi left Kattineh at first stunned and then howling with elation.  
"For a couple of minutes I didn't believe it, but then I was kind of screaming that it's real and my whole family acknowledged that," Kattineh said.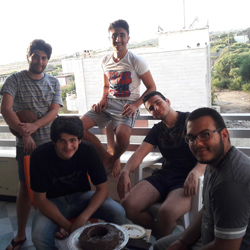 Kattineh said he has dreamed of soaring to academic heights since he was a young boy, but a bronze medal win at the 2016 International Chemistry Olympiad in Tblisi, Georgia, finally led him to realise that a place at Cambridge could be attainable.
The University of Cambridge is no stranger to realising the dreams of bright young minds from almost any place on the planet.
Just last month, Cambridge mathematician Caucher Birkar - who was born on a subsistence farm in the Kurdish region of western Iran and grew up during the war between Iran and Iraq - won the most prestigious prize in maths, the Fields Medal.
Like those students who will successfully take up their places at Cambridge, Kattineh should find a warm reception at Corpus Christi, whose history as the only college at Cambridge or Oxford to be founded by townspeople, make it especially qualified to host Kattineh's journey from war-weary Syria to world class university education at Cambridge.
"This is an exceptional case," said Dr Michael Sutherland, Admissions Tutor. "Abdullah has had to overcome tremendous obstacles to win the place at Corpus and we want to support him and ensure he is fully funded and able to concentrate on his studies and new life here."
When he does arrive, Kattineh said he will bring his work ethic, determination and the memories of his childhood in a box of small toys to place on a shelf in his room.
"All my memories I will bring with me," he said. "It gives you motivation when you look at something from your childhood and [then] see what have I become now."
Inset image: Abdullah Kattineh (front left) with friends at his house in Syria. 
You can see the full version of this story on the University of Cambridge website.