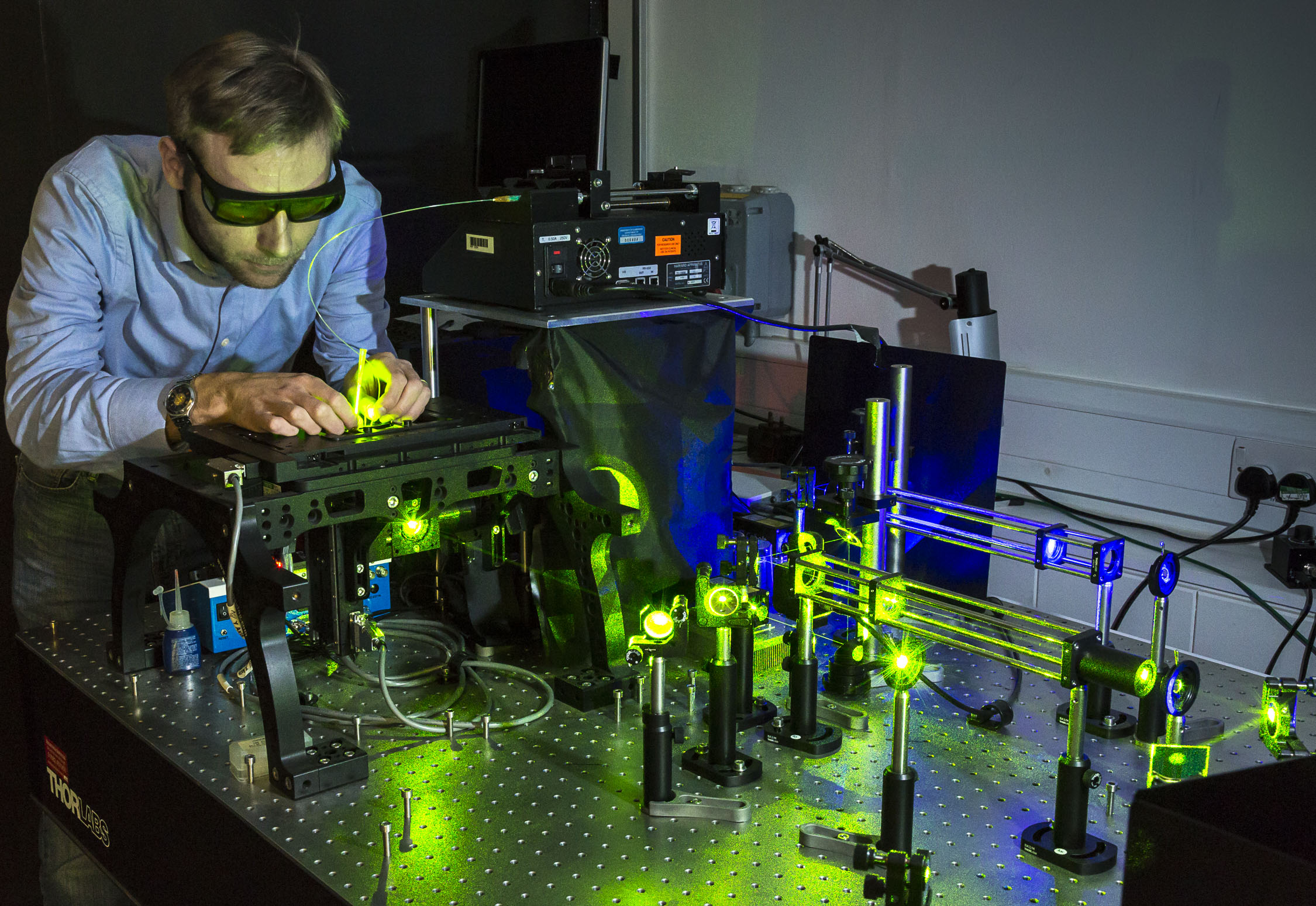 Image of Tuomas Knowles courtesy Nathan Pitt Department of Chemistry
Thursday, November 10, 2016
Professor Tuomas Knowles has received a £250,000 gift from the Frances and Augustus Newman Foundation to set up and run a state-of-the-art microfabrication laboratory.
The new Sir Rodney Sweetnam Laboratory will allow researchers to develop next-generation microfluidic devices for applications in the biomedical sciences over the next ten years.
"I am extremely grateful and very honoured that the Frances and Augustus Newman Foundation is supporting our research in this crucial manner," said Tuomas.  "This support will transform our research into microfluidic device development and its applications to protein self-assembly and misassembly, with related implications for molecular medicine."
Over the past five years, the Knowles group has set up a programme to explore and implement the use of ultra-small volume assays in protein science.  This approach has allowed researchers to perform measurements which simply would not be possible in conventional bulk experiments, including detecting single nucleation events that initiate pathological protein aggregation and misfolding, which can lead to diseases such as Alzheimer's.
Progress in lithography methods and other underpinning technologies is increasingly allowing a range of polymeric materials and solvents to be used in the fabrication and operation of complex microfluidic devices, requiring dedicated laboratory space with appropriate air handling to exploit the potential of this technology to the full. "To take our work to the next level, a dedicated microfabrication laboratory is absolutely crucial, and the generous donation by the foundation is the fundamental catalyst to allow this development to take place," said Tuomas. 
Tuomas and his research group are excited about the opportunities offered by designing, developing and fabricating new microfluidic platforms to address biomedical issues, and are keen to use these devices to probe the molecular origins of neurodegenerative disorders in the Centre for Misfolding Diseases, alongside the Vendruscolo and Dobson groups. "A vital aspect of the Centre for Misfolding Diseases is to develop and apply new biophysical methods to specific and challenging problems associated with human health. The ability to access state of the art microfabrication facilities will be of enormous significance to our programme" commented Chris Dobson.
"It is a great privilege to see our future work in microfabrication being undertaken in a laboratory that honours the legacy of Sir Rodney Sweetnam, the previous chairman of the Frances and Augustus Newman Foundation, whose interest and support in our work was instrumental in establishing the biomedically-oriented microfluidics programme in our lab," said Tuomas.
Tuomas was the beneficiary of a Next Generation Fellowship funded by the Frances and Augustus Newman Foundation from 2012 to 2016.  Next Generation Fellowships support early-career Research Fellows and Lecturers with start-up grants during the crucial first years of their posts, giving them time to build up their own research groups and profiles so that they can successfully attract research grants.
"My Next Generation Fellowship allowed me the freedom to initiate the research programme on microfluidic systems and their applications to protein science," said Tuomas, who has also founded the spin-out company Fluidic Analytics, which is developing a fast and inexpensive method of diagnosing protein-related illnesses using microfluidic methods.
You can support Chemistry at Cambridge through a Next Generation Fellowship or other gift, or contact Head of Department John Pyle for more information.