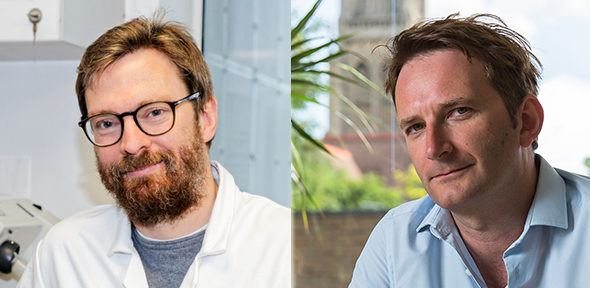 Professors Erwin Reisner (l) and Matthew Gaunt both received the prestigious grants
Two Department of Chemistry academics have been awarded ERC Advanced Grants to pursue their innovative research projects.
Advanced Grants are awarded to leading researchers who are established in their field and have a recognised track record of achievements.
A synthesis-driven way to detect RNA modifications
1702 Yusuf Hamied Professor of Chemistry Matthew Gaunt was awarded a grant for his project "A Chemical Synthesis Approach towards Decoding the Epitranscriptome", known as ChemDecEpi.
"RNA is fundamental to cellular function and disease," said Gaunt. "Beyond its canonical nucleotides there are more than 150 post-transcriptional modifications in RNA. We aim to establish a field called synthetic epitranscriptomics to detect RNA modifications by designing selective chemical reactions that exploit the innate reactivity of the subtle changes in the nucleotide structure."
Gaunt said: "I'm delighted to have been awarded an ERC Advanced Grant as it will enable me to follow a completely new line of research that I hope will help to establish synthesis-driven insight into the mysteries of RNA biology"
Bio-hybrids to transform CO2 into high value organic chemicals
Professor of Energy and Sustainability Erwin Reisner was awarded a grant for his project "Semi-biological Domino Catalysis for Solar Chemical Synthesis" known as domino4chem.
"The project will combine the strength of synthetic and biological technologies to use sunlight for the synthesis of high value organic chemicals from the greenhouse gas carbon dioxide," said Reisner. "This cross-disciplinary approach will establish sunlight-to-chemical conversion technologies for sustainable chemical manufacturing in a circular economy."
Reisner said: "I am absolutely thrilled to receive this award! This is a massive recognition for my entire research team and the generous support will enable me to establish an ambitious and transformative research programme to support the transition to a net zero carbon society."
Altogether, nine Cambridge academics won ERC Advanced Grants. This is the greatest number of grants won by a UK institution in the 2021 round of funding. The other Cambridge grantees are Professor Anuj Dawar, Professor Vikram Deshpande, Professor Paul Dupree, Dr Florian Markowetz, Professor Pierre Raphael, Professor Rodolphe Sepulchre and Professor Ivan Smith.
Adapted from an article which first appeared on the University of Cambridge research news website.