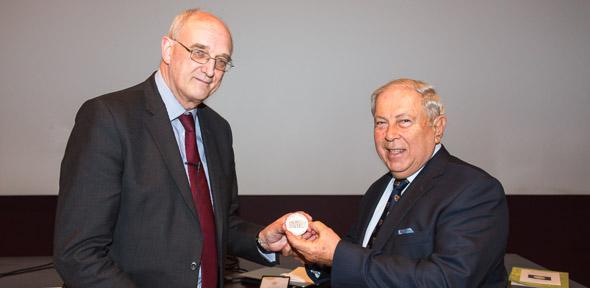 Sir Leszek Borysiewicz presents Yusuf Hamied with his Alumni Medal. Image courtesy of Nathan Pitt, © University of Cambridge
There was standing room only in the Wolfson Lecture Theatre as friends, family, postdocs, students and academics watched Yusuf Hamied receive the inaugural Alumni Medal from The Vice-Chancellor, Professor Sir Leszek Borysiewicz.
A visibly emotional Yusuf said he was touched and honoured to receive the medal. He added, "There has always been a deep bond between the University, Christ's College, and in particular for me the Chemistry department. Cambridge educated me, Cambridge taught me how to live, Cambridge showed me how to contribute to the world. I will always be indebted to this great institution and what it stands for."
Yusuf completed his PhD in 1960 under the supervision of Lord Todd. As CEO and Chair of the socially conscious Indian pharmaceutical company Cipla, Dr Hamied worked to provide low-cost generic antiretrovirals (ARVs) to people with HIV and Aids in developing countries, and in the early 2000's, reduced the cost of ARVs to under a dollar a day.  His actions have saved hundreds of thousands of lives in Africa and other developing parts of the world.
The Vice-Chancellor said: "The aim of this medal is to recognise services to the community that have brought honour to the University of Cambridge Department of Chemistry. Of any one person alive who can be said to have done so, I feel that there's nobody more deserving than Yusuf Hamied."
Professors John Pyle, Christopher Abell, Christopher Dobson and Clare Grey spoke at the ceremony celebrating Yusuf, and taking the time to share some of their current research. After which Yusuf breathed a small sigh of relief and quipped, "Thank God I'm not a student now!"