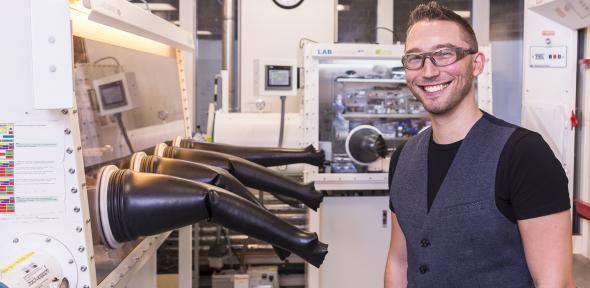 Image courtesy Nathan Pitt, Department of Chemistry.
Postdoctoral researcher Dr Oliver Pecher was featured in Cambridge News on 2 March 2016.
Oliver works in the Grey Group, which studies the nature of solid state materials by nuclear magnetic resonance (NMR), X-ray and Neutron scattering, electron microscopy and computational calculations. 
Oliver specialises in NMR spectroscopy, studying the properties and performance of materials for lithium- and sodium-ion technologies, with the ultimate application of improving the cost and performance of batteries used in smartphones, laptops, tablets and electric vehicles.  
Oliver says Cambridge is an amazing place to work and the possibilities are endless.  "I appreciate being given the chance to work with so many different people from all over the world.  To be part of this great mix of nationalities and scientific expertise is surely the biggest driving force for creativity and thinking beyond the ordinary."
Below:  Dr Oliver Pecher and Dr Michael Gaultois demonstrating fun electricity and magnetism experiments at St Alban's Catholic Primary School for the Cambridge Science Festival Roadshow.  Images courtesy of Pecher/Gaultois.