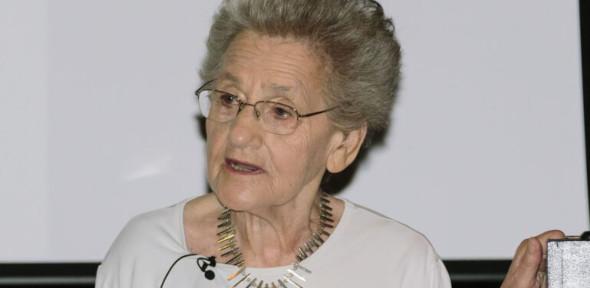 Dr Olga Kennard giving opening remarks at the CCDC's CSD 50th celebration
It is with sadness that we announce the death of Dr Olga Kennard, founder of the Cambridge Structural Database and Cambridge Crystallographic Data Centre.
Born in Hungary, Olga moved to the UK in 1939 to escape anti-semitism. She studied Natural Sciences at Newnham College, worked at the Cavendish laboratory on the crystal structure of haemoglobin with Max Perutz, and after a time in London, returned to Cambridge to set up chemical crystallography in Chemistry, supported by the MRC.
In the 1960s, realising the power of computers to codify, analyse and search crystal structures, she created the Cambridge Structural Database and the Cambridge Crystallographic Data Centre (CCDC), aiming to capture every published organic crystal structure. From its humble beginnings, the CSD ​now contains over 1.2M small-molecule organic and metal-organic crystal structures. Big-data lessons from the collective results are used globally to advance scientific research into pharmaceuticals, functional materials, catalysts, and more in both commercial and academic research.
When CCDC became a charity, it moved into its own building attached to Chemistry, designed by the Danish architect Eric Christian Sørensen. Sørensen went on to design our Informatics building which also houses the library and Cybercafé.
Speaking at the CCDC's 50th anniversary in 2015, the then 91-year-old Kennard said: "I had a passionate belief that the collective use of data would lead to the discovery of new knowledge which transcends the results of individual experiments."
An expert in art and architecture, Kennard was a Trustee of the British Museum and was awarded an Honorary Degree by the University of Cambridge. She died on Friday 2 March, aged 98.
Read more about Dr Olga Kennard's life and work, including a video interview.