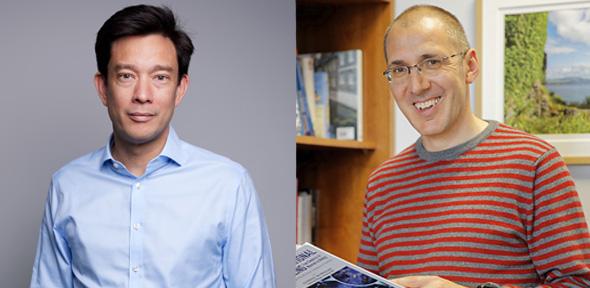 Professors Jason Chin (l) and Angelos Michaelides, courtesy Chemistry Photography
Two members of the Department have been elected as Fellows of the Royal Society.
1968 Professor of Chemistry Angelos Michaelides and his "ICE group" research new theoretical methods to better understand contemporary problems in chemistry, physics and materials science. "We are particularly interested in developing and applying computer simulation approaches that provide the fundamental molecular-level insight that can help address contemporary global challenges related to water, energy, and the environment," he said.
Jason Chin, who is also a Fellow of the Academy of Medical Sciences, is a Professor of Chemistry and Chemical Biology in this Department in addition to his roles as Head of the Centre for Chemical and Synthetic Biology and Joint Head of the Protein and Nucleic Acid Chemistry Division at the MRC Laboratory of Molecular Biology.
Chin has pioneered methods to reprogram the genetic code of living organisms.  He has rewritten the near-universal genetic code of natural life to create organisms that use new genetic codes.  The new organisms show some remarkable properties: they are resistant to a wide-variety of viruses and can be programmed to make new non-canonical polymers.
On hearing of this prestigious honour, Michaelides said: "I'm delighted to have been elected an FRS, and very grateful to all the outstanding students, postdocs, collaborators and mentors I've had over the years, without whom this never would have happened."
Head of Department Dr James Keeler said: "Election as a Fellow of the Royal Society is a singular honour, recognised throughout the world as a sign of excellence and esteem. Angelos and Jason are to be congratulated on their election and the recognition it brings.  We are proud to count them as colleagues, and offer them our sincerest congratulations on this wonderful achievement."
The Royal Society is a self-governing Fellowship made up of the most eminent scientists, engineers and technologists from the UK and the Commonwealth. Fellows and Foreign Members are elected for life through a peer review process on the basis of excellence in science.
Michaelides and Chin are among the nine new Fellows at the University of Cambridge announced today by the Royal Society. They join Department members Professor Ali Alavi, Professor Sir Shankar Balasubramanian, Professor Clare Grey, Professor Chris Hunter, Professor Sir David Klenerman, Professor Steve Ley and Professor David Wales as Royal Society Fellows.