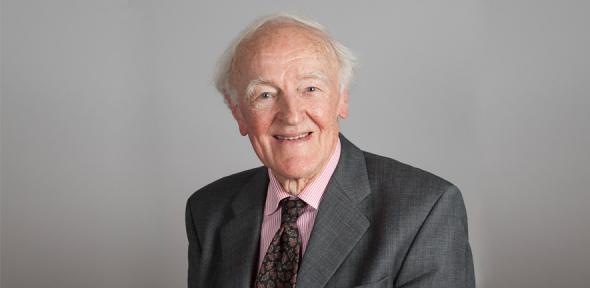 Courtesy Chemistry Photography
It is with sadness that we announced that Professor David Buckingham CBE FRS FAA has died at the age of 91, peacefully at home surrounded by members of his family.
Professor Buckingham was the first holder of the 1968 Chair of Theoretical Chemistry in our Department, having previously held academic appointments in Bristol and Oxford. He did his PhD here in Cambridge under the supervision of John Pople.
Throughout his long and very productive career Amyand David Buckingham, who preferred to go by David, made many important contributions in molecular physics, most especially in the area of intermolecular forces and in the understanding of the electric, magnetic and optical properties of molecules. His work was not only theoretical but also led to the development of experimental methods for measuring various quantities, notably the quadrupole moment of molecules and their hyperpolarizability. With Laurence Barron he pioneered the study of Raman optical activity. His also did pioneering work on the importance of long-range intermolecular forces in determining the structure and properties of clusters.
David received many honours: he was a Fellow of the Royal Society, a Fellow of the American Physical Society, a Foreign Associate of the United States National Academy of Sciences, a Foreign Member of the Royal Swedish Academy of Sciences, a Fellow of the Australian Academy of Science, he received the first Ahmed Zewail prize, and was awarded a CBE. David also has the very special distinction of having a unit named after him: the Buckingham is the CGS unit of the electric quadrupole.
An Australian by birth, David was a skilled cricketer who played for the University and other first class teams in the late 1950s. His interest in the sport continued and he was for many years President of Cambridge University Cricket Club. Professor Buckingham was a courteous and gentlemanly scholar, but there was no doubt of his incisive scientific mind and the great depth of his knowledge and understanding. The Editor of Molecular Physics, a journal with which David had a long association, describes David as "a giant in the field of understanding intermolecular forces". Few would disagree.