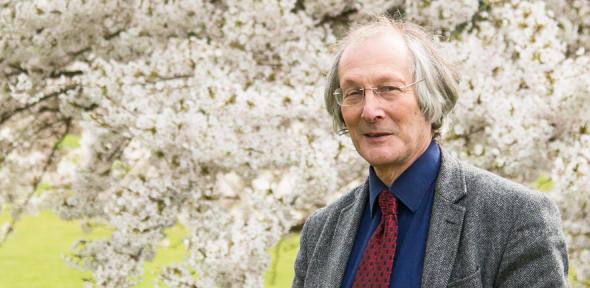 Professor Daan Frenkel, courtesy Department of Chemistry photography
Thursday, September 24, 2020
Professor Daan Frenkel has been awarded the European Physical Liquid Matter Prize, considered one of Europe's most prestigious prizes in the field of the (chemical) physics of liquids.
The prize, which is only given every three years, was instituted in 2004 to recognise outstanding achievements in this area of science.
Now an Emeritus Professor, Frenkel was the 1968 Professor of Theoretical Chemistry here from 2007 – 2015 and Head of the Department from 2011 – 2015. His predecessor as 1968 Professor, Jean-Pierre Hansen FRS, was the first recipient of the prize in 2005.
Frenkel continues to explore the use of numerical simulations to predict the stability and rate of formation of self-assembling structures and materials. These studies are relevant for the design of novel materials and for the understanding of the physical properties of existing self-assembled structures.
He was also part of a research team that identified a strategy for rapidly detecting the DNA of pathogens – the microorganisms that cause disease – that could be relevant to the diagnosis of the Covid-19 virus, published in PNAS in April.
The European Physical Society Condensed Matter Division aims to serve its scientific, industrial and educational communities by helping them to obtain the latest information on progress in their specialities and related fields, to gain visibility for their research, to help them interact with their peers and to develop professionally.
Other previous winners include Jakob Klein (Weizmann Institute, 2017); Robert Evans (Bristol, 2014), David Chandler (Berkeley 2011); and Henk N.W. Lekkerkerker (Utrecht, 2008). The prize is normally given at the EPS Liquid Matter Conference, which has been postponed until 2021 due to Covid-19 restrictions.