An artificial leaf floats on the River Cam in front of the iconic Bridge of Sighs, courtesy @ReisnerGroup
Enjoy a glass of sparkling wine and nibbles while learning about the circular economy at our Alumni Festival event on Friday 22 September at 6pm.
Prof of Energy & Sustainability Erwin Reisner
In this entertaining and instructive presentation, Professor Erwin Reisner and his team will demonstrate their creative solutions to the major issues of climate change, waste and pollution, and explain the concept of the circular economy. You will leave convinced that the circular economy is not only possible, but also better for the economy and our well-being. 
This event will be held live in our Cybercafé and will also be livestreamed for those who can't attend in person (but you'll have to provide your own sparkling wine!).
Register here to attend in-person.
Register here to watch the livestream.
PS. They will also tell you how their artificial leaf fared in last year's European Horizon Solar Fuel challenge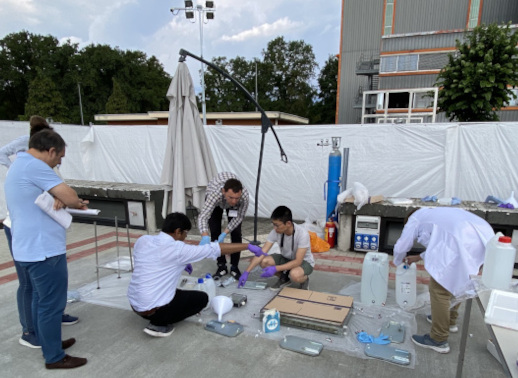 The University of Cambridge team working on their solar leaf array last summer in Ispra, Italy.