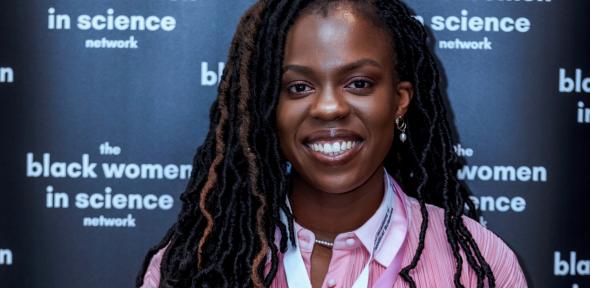 Tomi Akingbade, Black women in science
Thursday, February 23, 2023
PhD student Oluwatomi Akingbade founded the Black Women in Science Network when she was an undergraduate at the University of Nottingham in 2018.
"I wanted to connect with other black women in science, and sometimes it was hard to find them," explains Tomi. "I wanted to give them a platform – there are many excellent black women scientists, and we have quite a unique voice that people don't often hear."
Now almost five years old, the Network is still growing, with about 175 active members, and a total of 370 subscribers. Tomi has recently expanded the core team: "I have six more volunteers to help us with the various activities we're promoting," she says. This is a change from the days when Tomi was the sole organiser working from her bedroom.
Black History Month
The Network celebrated Black History month with a bit of a twist this year. Tomi explains: "Black History month is normally a month when we talk about historical figures in science, but for obvious reasons there really aren't that many historical black women scientists."
"Yes, there have been some amazing black women scientists. But why not celebrate how many black women scientists there are now and amplify their voices– it's the whole ethos of  'let's give them their flowers while they are here – not wait until they pass.' "
So the Network's event in October, held in the historic venue of the Academy of Medical Sciences in London, was an opportunity for black women in science and science-related careers to meet, network and celebrate their work. "It was a safe space to congregate and have a good time, which left everyone feeling energised. We wanted to acknowledge the past, but also to celebrate the fact that we are the present and the future."
Black Women in Science Network
With the new team of volunteers, the Network is going 'full steam ahead' for next year. "Up to now we have had monthly on-line brunch talks, but I'd like to organise a couple of brunch talks across different areas of the UK in person," says Tomi.
The Network will also be starting season two of its regular podcasts. Season 1 focused on black women and health in a series of 10 podcasts. "Our original plan was for six podcasts, but the response was so good, we expanded it to 10," says Tomi. The plan for Season 2 is also for 10 podcasts, focusing on the topic of race in research.
"We'll also be turning five in April – last year we marked our anniversary by hosting talks on-line, but next year we'd like to organise an in-person event.  I'd also like to launch another mentorship scheme," she enthuses. "Really now is a call for funding – we've done pretty much everything we can do for free."
The first Black Women in Science Network live brunch will be held here in the Department early in 2023. For further details, contact admin@bwisnetwork.com.
Editor's note: this piece was written for Chem@Cam issue 65 regarding October 2022 which is Black History Month in the UK. We are republishing it here to mark Black History Month in the USA.