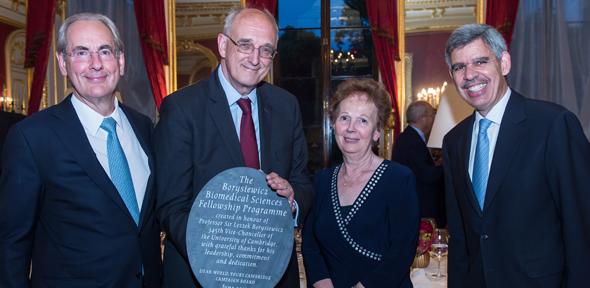 Courtesy University of Cambridge
A gift from the members of the Collegiate Campaign Board will annually support up to ten exceptional postdoctoral researchers in biomedical science.
The Borysiewicz Biomedical Sciences Fellowship Programme has been established in honour of the outgoing University of Cambridge Vice-Chancellor, Professor Sir Leszek Borysiewicz.  Sir Leszek has long recognised the importance of postdocs to the university, who are key to its future research strength.
"This will embed the Vice-Chancellor's remarkable vision and his introduction of ways to recognise and enrich the enormous talent of postdoctoral researchers, so developing their potential and enabling many to become future world leaders" said Director of the Office for Postdoctoral Affairs Dr Rob Wallach.  
Under Sir Leszek, Cambridge has made support for the postdoctoral community a priority. An entirely new campus at North West Cambridge is being built to provide dedicated accommodation for key workers in the University, primarily postdoctoral researchers. The Office for Postdoctoral Affairs (OPdA) also was established in 2013, with a range of opportunities being created to foster postdoctoral potential as world leaders, including three dedicated Postdoc Centres across the expanding Cambridge campus.
A longer version of this article can be found on the University of Cambridge website.