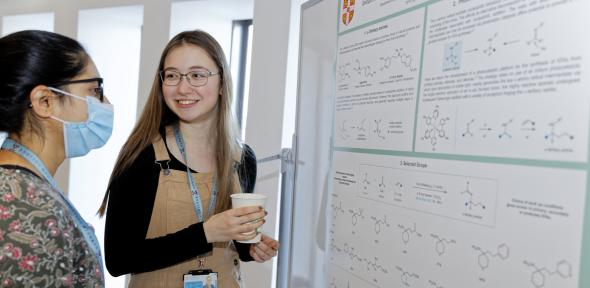 The IUPAC Global Women's Breakfast in the Cybercafé, Gabriella Bocchetti ©University of Cambridge
Thursday, October 6, 2022
We are delighted with the renewal to our Athena Swan silver award which was first granted in April 2016.
The Athena Swan Charter is a framework now used in a number of countries to encourage and recognise commitment to advancing gender equality within higher education and research. Its goals promote a wider and more inclusive culture in the STEM (science, technology, engineering, mathematics) subjects. These include:
●    Helping institutions achieve their gender equality objectives.
●    Acknowledging that advancing gender equality requires a commitment at every level of the organisation, and in particular active leadership from those in senior roles.
●    Applying a targeted self-assessment framework to support institutions identify areas for positive action as well as recognise and share good practice.
●    Supporting the promotion of inclusive working practices that can increase the retention of valued academics and professional and support staff, demonstrating an institution's commitment to an equitable working environment.
Dr James Keeler, Head of Department comments: "The silver award independently assesses and recognises the impact of our ambitious action plan in addressing the historical underrepresentation of women in chemistry. The whole department is behind this endeavour and I am grateful to the many people who have contributed and continue to be involved in our important Athena Swan work."
Prof Melinda Duer states: "This is wonderful recognition of the huge amount of work by many people to make our Department a more diverse and inclusive place to live and work. I hope very much that this will be strong encouragement to continue this much-needed work – we're not there yet but we can now see where we are heading."