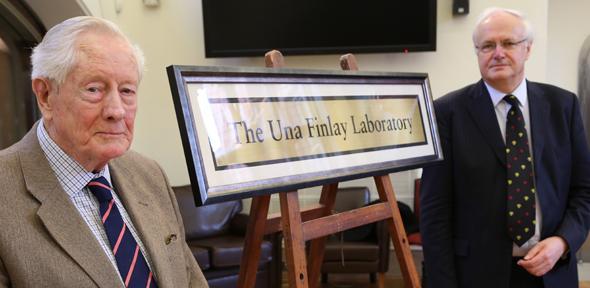 Image courtesy University of Cambridge
A gift from a Cambridge alumnus will support fundamental research into the causes of disorders such as Alzheimer's and Parkinson's disease, enabling new approaches to combat them.
R. Derek Finlay is donating £5 million to fund the completion of the department's new Chemistry of Health building, and to support new research into neurodegenerative diseases.
The building, due to open next year, will house the Centre for Misfolding Diseases, which is driving ground-breaking research into how protein molecules 'misfold', leading to diseases such as Alzheimer's, Parkinson's and type 2 diabetes.
Finlay has had personal experience of the impact such devastating disorders can have. He lost his wife, Una Finlay, in 2016 to Alzheimer's disease. On 23 March he unveiled a plaque dedicating the laboratories that will be occupied by the Centre for Misfolding Diseases to his late wife. This plaque will be placed within the Chemistry of Health building when it opens in 2018.
He said, "It is my hope that the new Chemistry of Health Building will enable breakthroughs to be made in our understanding of neurodegenerative diseases, bringing us closer to the development of new treatments. My gift to support Cambridge's pioneering work in this area is in memory of my dear late wife, Una, herself a sufferer of Alzheimer's."
The Centre's research, directed by Professor Christopher Dobson, is taking forward understanding of misfolding proteins in humans and looking at ways to accelerate the development of new diagnostics and therapeutics.
Professor Dobson said: "We are enormously grateful for this generous benefaction from Derek, and honoured that our laboratories within the building will be named after his late wife Una. Disorders such as Alzheimer's and Parkinson's disease are becoming frighteningly common in the modern world. The Chemistry of Health building will enable us to make a giant step forward in translating recent breakthroughs made in Cambridge into future treatments to combat these rapidly proliferating and truly devastating conditions."
A longer version of this story can be seen on the University of Cambridge website.