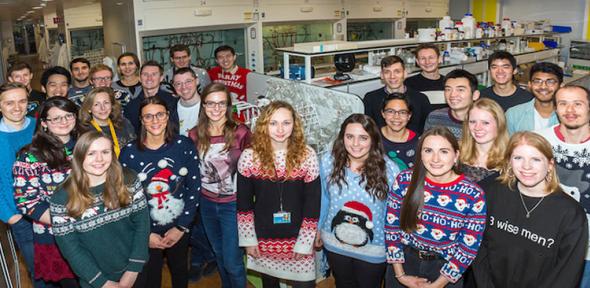 A departmental start-up has been chosen as a semi-finalist in the Cambridge Enterprise Postdoc Business Competition. Pept2Smart is aiming to provide researchers with the tools to create new types of drugs to treat diseases that other drugs cannot.
Pept2Smart has been set up by Jessy Iegre, a postdoc in the Spring group (pictured above), along with Dr Hannah Sore, Josie Gaynord and Professor David Spring.
The researchers are working with a type of compounds known as peptides. These can act on the molecules in the body associated with disease processes when other treatments (small drug molecule or antibody treatments) are not suitable. "So they provide a valuable alternative approach," says Jessy.
"Improved peptides could have a significant impact on society," she says. "They could bring much needed therapeutics to market. However, they need to be modified in order to act as drugs. Over the last decade, in the Spring group, we have developed technologies that allow for easy and quick peptide modification. We are using these technologies to bring functionalised peptides into the market."
The company has only just started up and is looking for early stage investments to kickstart its work. As a semi-finalist, Jessy will now receive valuable mentoring from a local expert to help her develop her business skills and refine Pep2Smart's business plan. If Pep2Smart makes it to the final, she'll then be pitching to judges who are experts in spin-out investment and could potentially win up to £20,000 in funding.
Good luck, Pept2Smart.