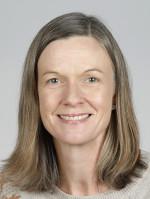 Deborah A. Longbottom has been a Teaching Fellow for undergraduates in the Department of Chemistry for several years.  More recently, she has expanded her role and also taken on responsibility for direction of graduate training, as the Graduate Studies Co-ordinator. She was previously a Senior Research Associate in the group of Professor Steven V. Ley, which followed post-doctoral studies at The Scripps Research Institute, San Diego, California and experience in the pharmaceutical industry. Deborah lectures undergraduate courses in the Department to first and final year students ('Reactions and Mechanisms in Organic Chemistry' and 'Medicinal Chemistry' respectively), is involved in several outreach projects and is gradually building up graduate level training, including academic and industrial lectures and workshops, symposia, industrial forums, placement opportunities and careers sessions with Departmental alumni.  Her research interests encompass both natural product synthesis and method development and most recently, a fruitful research collaboration with the O'Reilly group at Warwick University has led to interesting investigations on the synthesis and utility of amino-acid functionalised polymers formed by RAFT polymerisation. Further explorations in this area are ongoing.
Representative Publications
Tuning the Catalytic Activity of L-Proline Functionalised Hydrophobic Nanogel Particles in Water A. Lu, P. Cotanda, J. P. Patterson, D. A. Longbottom and R. K. O'Reilly, ChemSci., 2013, 4, 965.
Immobilization of  MacMillan Catalyst via Controlled Radical Polymerisation: Catalytic Activity and Reuse B. Moore, A. Lu, D. A. Longbottom and R. K. O'Reilly, Polym. Chem., 2013, 4, 2304.
Aldol Reactions Catalysed by L-Proline Functionalised Polymeric Nanoreactors in Water A. Lu, P. Cotanda, J. P. Patterson, D. A. Longbottom and R. K. O'Reilly, Chem. Commun., 2012, 48, 9699.
L-Proline Functionalized Polymers Prepared by RAFT Polymerization and their Assemblies as Supported Organocatalysts A. Lu, T. Smart, T. Epps, III,  D. A. Longbottom and R. K. O'Reilly, Macromolecules, 2011, 44, 7233.
Organocatalytic Tuneable Amino Acid Polymers Prepared by Controlled Radical Polymerization A. C. Evans, A. Lu, C. Ondeck, D. A. Longbottom and R. K. O'Reilly, J. Polym. Sci., Part A, 2009, 47, 6814.
Highly Diastereoselective Desymmetrisation of Cyclic meso-Anhydrides and Derivatisation for Use in Natural Product Synthesis A. C. Evans, D. A. Longbottom, M. Matsuoka, J. E. Davies, R. Turner, V. Franckevicius and S. V. Ley, Org. Biomol. Chem., 2009, 7, 747.
Practical Organocatalysis Using (S)- and (R)-5-Pyrrolidin-2-yl-1H-tetrazoles: A Review D. A. Longbottom, V. Franckevicius, S. Kumarn, A. J. Oelke, V. Waschlowski and S. V. Ley, Aldrichimica Acta, 2008, 41, 3.
Practical Synthesis of (S)-5-Pyrrolidin-2-yltetrazole, Incorporating Efficient Protecting Group Removal by Flow-reactor Hydrogenolysis V. Franckevicius, K. R. Knudsen, M. Ladlow, D. A. Longbottom and S. V. Ley, Synlett, 2006, 889.
Total Synthesis and Biological Evaluation of Halipeptins A and D and Analogues K. C. Nicolaou, D. E. Lizos, D. W. Kim, D. Schlawe, R. G. de Noronha, D. A. Longbottom, M. Rodriguez, M. Bucci and G. Cirino, J. Am. Chem. Soc., 2006, 128, 4460.
New Uses for the Burgess Reagent in Chemical Synthesis: Methods for the Facile and Stereoselective Formation of Sulfamidates, Glycosylamines, and Sulfamides K. C. Nicolaou, S. A. Snyder, D. A. Longbottom, A. Z. Nalbandian and X. Huang, Chem. Eur. J., 2004, 10, 5581.
Total Synthesis of Polycephalin C and Determination of Absolute Stereochemistry at the 3'',4'' Ring Junction D. A. Longbottom, A. J. Morrison, D. J. Dixon and S. V. Ley, Angew. Chem. Int. Ed., 2002, 41, 2786.
Total Synthesis of the Plasmoidal Pigment Physarorubinic Acid, a Polyenoyltetramic Acid D. J. Dixon, S. V. Ley and D. A. Longbottom, J. Chem. Soc., Perkin Trans. 1, 1999, 2231.
If you are interested in reading more about the O'Reilly Group research, please see:
http://www2.warwick.ac.uk/fac/sci/chemistry/research/oreilly/oreillygroup