University Associate Professor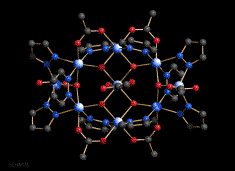 Our research is focused on the synthesis and characterisation of new materials, primarily using solvothermal synthesis. In this technique, reactions occur in solvents at temperatures above their normal boiling points by containing the reaction mixture within a pressure vessel. We have found this method to be particularly good for preparing porous materials for hydrogen storage and gas separation as well as new magnetic materials. We have an extensive range of collaborations with groups in the UK, the rest of Europe and in South Korea for performing measurements on the magnetism and porosity of our compounds.
Magnetic materials are being prepared as part of the search for 'single molecule magnets' which represent the ultimate in magnetic data storage efficiency. We are also preparing compounds with which physicists can test theoretical models of magnetic behaviour; the same theories can be applied to other types of symmetry breaking in areas as diverse as protein folding and the early universe.
New porous materials are much sought-after for gas storage in a future hydrogen economy. This is a very active area of research as zero-emission fuel sources are very attractive. Such materials could also be used as size- and shape-selective catalysis as well as gas separation and materials. The 'metal-organic framework' materials prepared in our lab are some of the most efficient hydrogen storage materials yet measured.
Mixed alkali metal/transition metal coordination polymers with the mellitic acid hexaanion: 2-Dimensional hexagonal magnetic nets
Pyridine-2,4-dicarboxylate: A versatile building block for the preparation of functional coordination polymers
Non-classical behaviour in an S = 5/2 chain with next nearest neighbour interactions observed from the inelastic neutron scattering of Mn2(OD)2(C4O4)
– Journal of physics. Condensed matter : an Institute of Physics journal
Muon spin relaxation study of manganese hydroxy squarate
– Inorganica Chimica Acta
INOR 823-Magnetism of metal organic frameworks
– ABSTRACTS OF PAPERS OF THE AMERICAN CHEMICAL SOCIETY
Synthesis, structure and physical properties of the manganese(ii) selenide/selenolate cluster complexes [Mn(32)Se(14)(SePh)(36)(PnPr(3))(4)] and [Na(benzene-15-crown-5)(C(4)H(8)O)(2)](2)[Mn(8)Se(SePh)(16)].
– Chemical Communications
Synthesis and Structure of Pentamethylcyclopentadienyl Tungsten(V) Complexes Containing Functionalized 6,12-Epiiminodibenzo[b,f][1.5]diazocine Ligands
Synthesis, structure and magnetic behaviour of manganese(II) selenolate complexes ∞1[Mn(SePh)2], [Mn(SePh) 2(bipy)2] and [Mn(SePh)2(phen)2] (bipy = bipyridyl, phen = phenanthroline)
– European Journal of Inorganic Chemistry
Bimetallic Metal‐Organic Frameworks Containing the ${\rm [M(2,}x-{\rm pdc)^{2-}_{2}}]$ (M = Cu, Pd, Pt; x = 4, 5) Building Block – Synthesis, Structure, and Magnetic Properties
– Zeitschrift für anorganische und allgemeine Chemie
Order-disorder transition in monoclinic sulfur: a precise structural study by high-resolution neutron powder diffraction (vol B62, pg 953, 2006)
– Acta Crystallographica Section B Structural Science