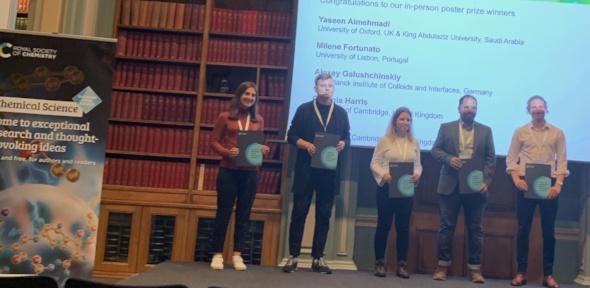 The prize winners take the stage at the Symposium, courtesy Philip Murray
Wednesday, November 23, 2022
Two postgraduates in the Gaunt group were recognised for their outstanding research posters at the Royal Society of Chemistry Chemical Science Symposium in November.
Fourth year PhD students Georgia Harris and Milo Smith received outstanding poster awards for work they displayed at the Symposium, which was held at the RSC's prestigious Burlington House in Piccadilly.
The symposium topic was Sustainable synthesis and catalysis, and featured talks by academic and industrial leaders in the field, including 1702 Yusuf Hamied Professor of Chemistry Matthew Gaunt, who spoke on "New reactions to modify complex molecules."
Georgia is a member of the Gaunt group and Milo is part of the SynTech Centre for Doctoral Training, also working in the Gaunt group. Both are researching photoredox catalysis.
Professor Gaunt said: It's wonderful to see Georgia and Milo rewarded for their creativity, motivation and endeavour. They are both outstanding researchers and have bright futures ahead of them."
Philip Murray, a Marie Sklodowska-Curie Individual Global Fellow and member of the Gaunt group said: "It was a great meeting and I'd really encourage other PhD students of the department to consider attending and presenting their work in future years."