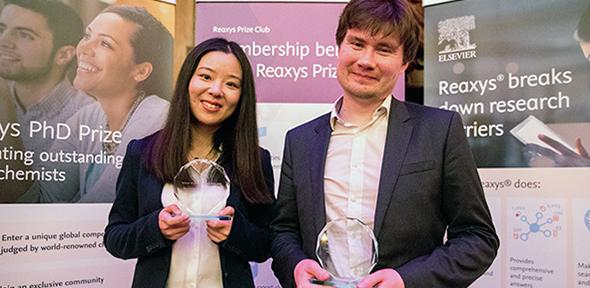 Image: courtesy of Elsevier
Congratulations to Aaron Trowbridge, a recent graduate student of ours, who was named this week as a winner of the prestigious Reaxys PhD Prize 2019 for the research he conducted here.
Celebrating outstanding research by young chemists across the globe, the Reaxys Prize is awarded annually by Elsevier, a global information analytics business specializing in science and health.
The prize recognises innovative and rigorous research in chemistry and associated sciences. This year it attracted almost 4,000 entries from researchers in over 50 countries. 
The entrants were whittled down first to a longlist of 45, and then a shortlist of 10 finalists who were all invited to present the key aspects of their research at the Prize Symposium in Amsterdam. The presentations were judged by all members of the Reaxys Advisory Board.
This week they announced the three winners including Aaron, who studied for his PhD here with the Gaunt group here, and is now a postdoc in the Macmillan Group at Princeton. His presentation was entitled: Multicomponent synthesis of tertiary alkylamines by photocatalytic olefin-hydroaminoalkylation. He is pictured above at the prize presentation along with fellow winner Dr Yujia Qing from the Bayley group, University of Oxford. Her symposium presentation was on Directional control of a processive molecular hopper. 
The third Reaxys Prize winner this year was Michael Geeson from the Cummins group, Massachusetts Institute of Technology, with a presentation on Phosphoric acid as a precursor to chemicals traditionally synthesized from white phosphorus.
This is the second award Aaron has received for his PhD research. Last month he also received an 'Outstanding Thesis Award' from this department.  
Read here about some of Aaron's research into new methods for synthesising molecules desirable in drug discovery.