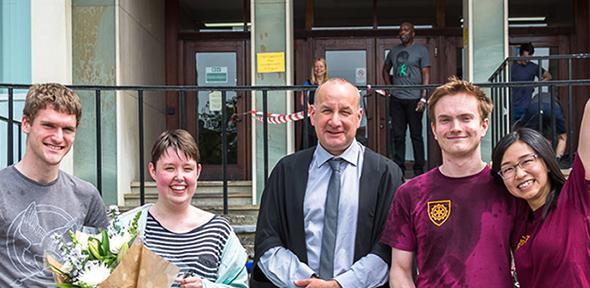 Image courtesy of the Department of Chemistry
The department is pleased to announce that Dr James Keeler is to be our new Head of Department. He will succeed the outgoing Head, Professor John Pyle, as from 1 October.
James is currently a Deputy Head of the Department and Director of Outreach, but his main role has been as Director of Teaching, with overall responsibility for the delivery of the undergraduate chemistry course. He has a real rapport with students, with his own teaching mainly in the area of introductory physical and theoretical chemistry, eg, thermodynamics, high-resolution spectroscopy, and applications of elementary group theory.
In addition, James has published a book on NMR and two chemistry books co-authored with Peter Wothers. Most recently, he has joined the author team for Atkins' Physical Chemistry. 
James says: "I am honoured by the confidence that my colleagues have shown in me in appointing me as the next Head of Department. Working with John, and with my fellow Deputy Head Nick Bampos, has given me a good sense of how the department works and how we fit into the University. So I hope that the transition will be a seamless as it can be.
"My aim will be to continue the work of John and his predecessors in fostering the success and ambition of the department, and in ensuring that it remains an excellent place to work and study."
John Pyle says: "This is an excellent appointment and I know that the department will be in very good hands."
The image above shows Dr James Keeler, centre, with students celebrating the end of their exams.
The video below is an interview with James, by Magnetic Resonance in Chemistry, filmed in September 2017.