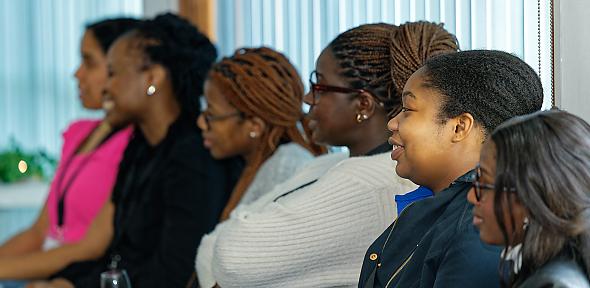 The Black Women in Science Network brunch. Nathan Pitt, University of Cambridge.
PhD student Tomi Akingbade alongside Juliana Eniraiyetan organised a networking brunch for black women in science from all across the UK and it was a huge success.
Hosted in the department by the Black Women in Science (BWiS) Network, the brunch brought together black women scientists for socialising and networking. The day kicked off with brunch followed by a talk from Doctor Bernadine Idowu, associate professor at the school of biomedical sciences at the University of West London. She spoke about successes and challenges as a black woman in science during her career and founding the charity Youth Against Crime not Crime Against You.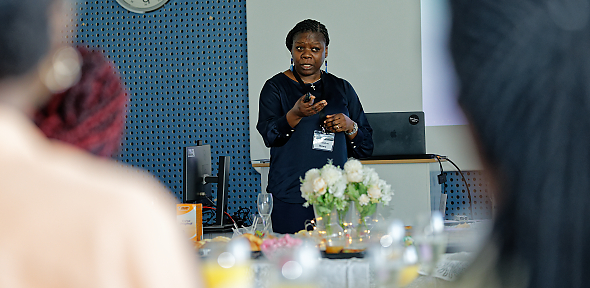 Dr Bernadine Idowu presents at the brunch. Nathan Pitt, University of Cambridge.
The BWiS Network is a community for women of African and Caribbean heritage at various stages of their scientific careers. The network was started by Tomi when she felt that she wanted to connect with other black women in science and it is now five years old. Tomi wants to host more brunches in different areas of the UK to reach and connect more scientists.
Tomi, who researches aggregates in Alzheimer's disease in the Klenerman lab and is the founder of the BWiS Network, said that "the energy at this event was indescribable, it meant so much to have so many impressive women in the room. I feel recharged and inspired.  Massive thanks to the department for making this space available and being so accommodating."
Tomi Akingbade presents at the brunch. Nathan Pitt, University of Cambridge.
Juliana Eniraiyetan, a data consultant at Rockborne, who co-organised the event as the events officer at BWiS Network, said that  "I am pleased the first Brunch Talks Live was a resounding success; the necessity of such a space for Black women in the sciences was apparent and attendees really enjoyed the event. This could not have been the case without the support and contribution of the Yusuf Hamied Department of Chemistry. We are grateful for their partnership."
Dr Nick Bampos, Deputy Head of Department who was at the event noted "the considerable impact that bringing together a group of remarkable women can have on their careers and their support of each other."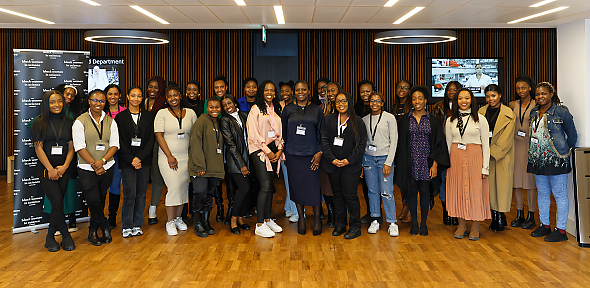 A group photo of the event participants. Nathan Pitt, University of Cambridge.