Active Projects: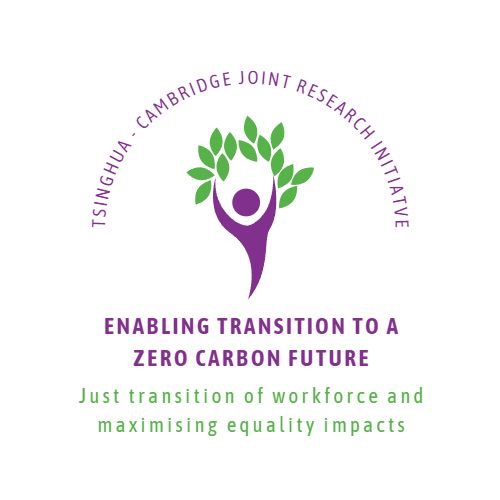 Tsinghua - Cambridge Joint Research Initiative:
Enabling transition to a zero carbon future - just transition of workforce and maximising equality impacts (including health and gender).
With climate change being the defining issue of our generation, a key area of interest is a just transition - how exactly we can achieve a low-carbon future in a just and equitable way.
Many measures aimed at reducing carbon emissions have seen a simultaneous rise in inequalities (e.g., income or job losses, gender inequalities) in developed and developing countries alike. At the same time, however, abatement measures can also have beneficial impact and work to reduce existing inequalities (e.g., improved health). There have been numerous international discussions on the just transition - the importance of a just energy transition was even highlighted at the UNFCCC COP26 during 2021 - yet there is a lack of studies of just transitions at a global scale.
This project, Enabling transition to a zero carbon future, aims to conduct a scoping study on just transitions towards net zero greenhouse gas emissions, whilst preparing an additional research proposal to fund further work into this important niche.
Through the Tsinghua - Cambridge Joint Research Initiative, we will be able to exchange knowledge on climate models, as well as methods for exploring the transition to net zero in a just and equitable way, between the University of Cambridge and Tsinghua University researchers.
The project will conduct in-depth literature reviews and collaborative policy briefings, informed via discussions with experts and stakeholders, on the just transition. This includes investigating the just transition of the workforce, maximising the positive equality impacts (including health and gender) on the path to net zero, the changes required on an individual and societal level to achieve net zero, and the evidence-based policy needed to support this.
---
Past Projects: 

PARIS REINFORCE 
PARIS REINFORCE (PR) is an EC-funded project involving 18 European and non-European partners supporting the Paris Agreement (PA) goals.
PR aims to bridge the gap between formal representation in climate modelling, and the real-life context in which climate-orientated decisions are made by connecting science, policy making and stakeholders. In light of PA, the key aim of PR is to reinforce climate policymaking with rigorous scientific data and to enhance the science-policy interface. 
As part of this project, a large network of contributing academics and researchers are focussing on improving and enhancing the deployment of Integrated Assessment Models (IAMs) in performing global analyses of various climate change scenarios. This is the main goal of PR - to develop a novel and demand-driven IAM-orientated framework for supporting the design and assessment of climate policies in the EU and other major or less emitting countries.
In addition to this, the PR project is actively working on a transparent, interactive and open-access data exchange platform for climate modelling – I2AM PARIS. 
I2AM PARIS will enable stakeholders to compare different pathways to understand which are the most relevant and realistic, allowing for model inter-comparisons. The platform also hosts detailed documentation and analysis carried out by PARIS REINFORCE integrated assessment and energy system models. By doing so, the project can demonstrate how IAMs can be used in a more effective manner, as well as their role in fully understanding low-carbon pathway transitions and how best to achieve them.
As part of PR, a number of publications, commentaries and deliverables have been produced - detailing the scope of the project, research findings or policy briefs. These include the documentation of global IAMs, stakeholder needs & research capacity, game-changing innovation, and investigating optimal allocation of Green Recovery Funds.
Find out more in the PARIS REINFORCE website.
---
Related Articles
   Positive and negative effects of the coronavirus pandemic on climate change 
   Dr Annela Anger-Kraavi (June, 2020), PR Commentaries.
   Available to read on Estonian World.