We are hosting a symposium on Friday 12 April 2024 to mark the scientific contributions of Professor John Pyle, who has retired as the 1920 Chair in Physical Chemistry.
The symposium will feature a day of talks in the Yusuf Hamied Department of Chemistry followed by a reception in the department and dinner at St Catharine's College. Registration for the symposium is free to all.
Date and timing
Friday 12 April 2024
9am: Arrival and coffee
9:30: Introduction, poster session and talks
18:00: Reception in the department
19:30: Dinner St. Catharine's College
Confirmed speakers
Martyn Chipperfield, Professor in School of Earth and Environment, University of Leeds
Lesley Gray, Emeritus Professor University of Oxford and Senior Research Scientist of the National Centre for Atmospheric Science
Neil Harris, Professor of Atmospheric Informatics, Cranfield University
Peter Haynes, Professor of Applied Mathematics, University of Cambridge
Kathy Law, Laboratoire atmosphères, milieux, observations spatiales, Sorbonne University
Amanda Maycock, Professor in Climate Dynamics, University of Leeds
Paul A. Newman, Chief Scientist for Atmospheric Sciences, NASA Goddard
Michael J. Prather, Distinguished Professor of Earth System Science, University of California, Irvine
Susan Solomon, Lee and Geraldine Martin Professor of Environmental Studies, Chair of the Program in Atmospheres, Oceans and Climate, MIT
Registration
For further information or to register, please email john.pyle.symposium.2024@gmail.com.
Below: Atmospheric Chemistry Modelling Group 1988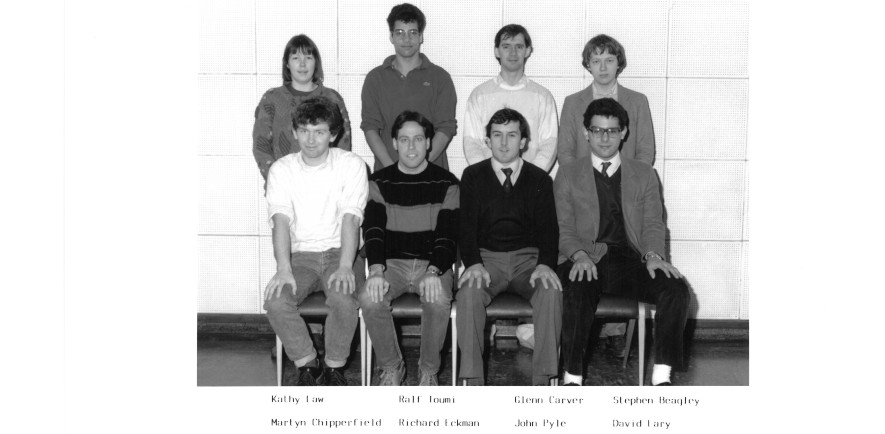 Above: Centre for Atmospheric chemistry group members in early 2000s