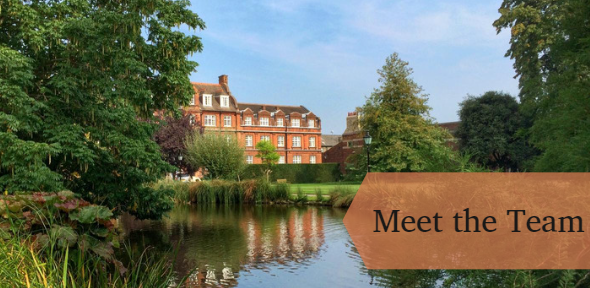 Principle investigator and director: Dr Annela Anger-Kraavi
Want to know more about the members of the CCPG?
Read more about us, and what we do. 
Dr Annela Anger-Kraavi
Dr Annela Anger-Kraavi takes on many roles, both here at Cambridge and in the wider climate community. 
Annela has a PhD in Climate Change Economies and an MPhil in Environmental Policy from the University of Cambridge, as well as a Diploma in Business Administration, a BSc and MA in Biology and a BSc in Economics. Until June of 2016, Annela was a lecturer in Macroeconomics of Ecosystems and the Director of the MSc Environmental Science at the University of East Anglia, UK. Here at the University of Cambridge, Annela is project lead of the CCPG and a College Lecturer in Economics. However, her influence doesn't stop here. 
From 2017 to 2020, Annela was vice-chair of the UNFCCC Subsidiary Body for Scientific and Technological Advice (SBSTA) and co-chair of the Katowice Committee of Experts on Impacts of Implementation of Response Measures (KCI) from 2019 to 2021. Currently, Annela also works as a UNFCCC negotiator, represents Estonia in the IPCC, is vice-chair of the Climate Policy Advisors of the World Meteorological Organisation's (WMO) Climate Coordination Panel, serves on advisory boards of academic bodies and institutions, advices developing and developed country governments and UN bodies, is a visiting progressor at universities across the globe, and a Member of the Estonian Association for the Club of Rome. Annela is also a Chief Executive of The Cambridge Trust for New Thinking in Economics, an educational charity that promotes new developments in the economic discipline, centred in the Institute for New Economic Thinking, as well as being one of the founders of the Women Climate Leaders' Network (WCL).
It was Annela's experience with the SBTSA that led her to initiate the WCL. Annela noted that there was a lack of guidance and support for women taking up leadership positions in the UNFCCC, and that women only account for about 25% of the speaking time in the UNFCCC plenary. She initiated the WCL to encourage more women to take up leadership positions in UNFCCC processes. The network provides a much-needed support system to women in similar positions, creating an environment where they can ask questions openly, share experiences, and support one another. 
Annela has been an active researcher in the field of climate change economics and policy for nearly 20 years. Her research interests revolve around macroeconomic analysis of the impacts of climate change (and other environmental) policies on national economies, the social implications of a low-carbon transition (including gender, age and inequality impacts), green growth, and applied macroeconomics. You can read more about Annela and her research in the Spring 2022 issue of chem@cam magazine (p. 13).
Watch: The WCL side event at COP26.
Dr Maria Russo
Dr Maria Russo is a Research Associate in the Department of Chemistry here at Cambridge. Maria has an MPhil in Chemistry from the University of Palermo, Italy and a PhD from University College London.
Maria worked as a Regional Climate Scientist at the Met Office from 2002 to 2006. However, missed the excitement of interest-led, 'blue-skies' research which led her to change career paths. Since 2006, she has been working as a National Centre for Atmospheric Science (NCAS) Research Associate.
Maria has been working with us in the department for over ten years, and is a valuable member of the CCPG. Her research interests include atmospheric pollution in the urban environment, tropical storms and their impact on the ozone layer, climate change, decadal changes in tropospheric ozone, the impact of lightning NOx parameterization in UKESM troposperic ozone, and evaluating the effect of model horizontal resolution on the representation of Meteorological and chemical transport processes (to name a few). Maria hopes her research will enhance our understanding of the atmosphere, discover new ways of understanding the links between climate and air pollution, and increasing awareness surrounding the damage that certain technologies inflict on our planet and, consequently, our health.
Maria is a current member of NCAS webinar and research for a committee, and is a strong advocate for women in STEM - endorsing more flexible working arrangements, alongside the definition of core hours, to allow women who decide to have a family to continue their career and achieve a reasonable work/life balance. 
Elin May
Elin is a Research Assistant with the Climate Change Policy Group. Elin is the newest addition here at the Centre of Atmospheric Science, and is in the early stages of her career. 
Elin has a BSc in Zoology and MSc in Conservation Science and Policy from the University of Exeter. During her studies, Elin investigated the effects of climate change on aquatic microbes, the effects of parasitism on the survival costs of reproduction in Sable Island's feral horse population, and participated in numerous field courses both in the UK and abroad. 
Prior to beginning her research career at Cambridge, Elin has held many different roles - from a barista and hospitality manager, to an animal carer and sustainability & environmental economics intern at a leading environmental consultancy. Currently, Elin is also the Project Officer for The Cambridge Trust for New Thinking in Economics.
As a Research Assistant with the CCPG, Elin investigates climate change policy and how countries across the world can enhance their emission reductions and reduce the negative impacts of climate change and climate change policy. Her research interests revolve around the climate crisis - including pathways to emissions abatement, the impacts of climate change on biodiversity and the natural environment, and the socioenvironmental implications of a low-carbon transition.
Dr Hannah Parris 
Hannah has a BSc Human Ecology/Geography and a BSc Economics and Economics History from the Australian National University, an MSc Environmental Policy and Planning from the London School of Economics and Political Science, and a PhD in Public Policy from the Australian National University.
Hannah has worked in the sustainability field for almost 20 years. She's been an independent researcher for a number of international and national governments, research organisations, NGO's and businesses, and was the Research Manager at Common Seas where she designed and led the policy research and evaluation process.
Hannah has particular research interests in supply chain sustainability, biodiversity, ocean and fisheries governance, climate change and the green economy. Her work aims to take the best that research has to offer, and turn it into something that can change the world. Accordingly, Hannah is the co-founder of Mighty Good Undies (as reported on HuffPost) and the Founding Director of Audrey Blue - two fashion brands that make ethical, accessible and organic fairtrade-produced clothes that will soon be fully circular businesses.