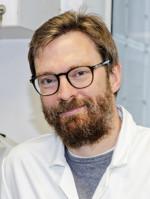 We are interested in artificial photosynthesis and solar fuels and develop novel photocatalytic systems by combining homogenous synthetic catalysts and enzymes with a light absorbing nanostructured semiconductor. A current focus lies on the sunlight-driven production of the high specific energy carrier hydrogen and the selective conversion of the greenhouse gas carbon dioxide into carbon monoxide and formic acid. Our cross-disciplinary laboratory covers a wide range of disciplines, from Synthetic Molecular and Materials Chemistry to Biological Chemistry combined with Electro-, Photochemistry and Nanoscience.
More information can be found at our group website: http://www-reisner.ch.cam.ac.uk
Keywords:  Solar fuels, artificial photosynthesis, Water and CO2 splitting, Small Molecule Activation, Catalysis, Metalloenzymes, Biomimetic Chemistry, Bio-inorganic Chemistry Synthetic Chemistry, Electrochemistry, Photoelectrochemistry, Materials Chemistry, Nanotechnology, Functional and Energy Materials.
Publications
Plasmonic enhancement in BiVO4 photonic crystals for efficient water splitting
L Zhang, CY Lin, VK Valev, E Reisner, U Steiner, JJ Baumberg – Small
(2014)
Protein film photoelectrochemistry of the water oxidation enzyme photosystem II.
M Kato, JZ Zhang, N Paul, E Reisner – Chemical Society reviews
(2014)
Structural Models of the Nickel Site in [NiFeSe]-Hydrogenases as Precursors for Nickel Containing Nanoparticles for Hydrogen Evolution in Water
C Wombwell, E Reisner – JOURNAL OF BIOLOGICAL INORGANIC CHEMISTRY
(2014)
19,
S490
Development and understanding of cobaloxime activity through electrochemical molecular catalyst screening.
DW Wakerley, E Reisner – Physical chemistry chemical physics : PCCP
(2014)
16,
5739
Al-doped ZnO inverse opal networks as efficient electron collectors in BiVO4 photoanodes for solar water oxidation
L Zhang, E Reisner, JJ Baumberg – Energy & Environmental Science
(2014)
7,
1402
Synthesis, structure and reactivity of Ni site models of [NiFeSe] hydrogenases.
C Wombwell, E Reisner – Dalton transactions (Cambridge, England : 2003)
(2014)
43,
4483
Versatile photocatalytic systems for H2 generation in water based on an efficient DuBois-type nickel catalyst.
MA Gross, A Reynal, JR Durrant, E Reisner – Journal of the American Chemical Society
(2014)
136,
356
Photocatalytic hydrogen evolution with a hydrogenase in a mediator-free system under high levels of oxygen.
T Sakai, D Mersch, E Reisner – Angew Chem Int Ed Engl
(2013)
52,
12313
RYB tri-colour electrochromism based on a molecular cobaloxime
MR Scherer, NM Muresan, U Steiner, E Reisner – Chemical communications (Cambridge, England)
(2013)
49,
10453
Covalent immobilization of oriented photosystem II on a nanostructured electrode for solar water oxidation.
M Kato, T Cardona, AW Rutherford, E Reisner – Journal of the American Chemical Society
(2013)
135,
10610