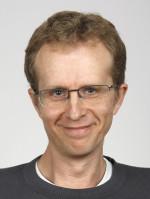 Professor of Statistical Mechanics
My research group includes people in the Dept of Chemistry and in the Dept of Applied Maths and Theoretical Physics (DAMTP).  We investigate questions from physics, chemistry and mathematics, using the theory of statistical mechanics to understand the behaviour of complex systems including biomolecules, glassy liquids, and soft matter.  I am particularly interested in co-operative dynamics: for example, how do molecules move in crowded environments?  What are the co-operative mechanisms for colloidal self-assembly, and the folding of biomolecules?
See also this page
Macroscopic behaviour in a two-species exclusion process via the method of matched asymptotics
– Journal of Statistical Physics
Macroscopic Behaviour in a Two-Species Exclusion Process Via the Method of Matched Asymptotics
– Journal of Statistical Physics
Role of initial conditions in one-dimensional diffusive systems: Compressibility, hyperuniformity, and long-term memory
Entropy production and its large deviations in an active lattice gas
– Journal of Statistical Mechanics: Theory and Experiment
Dimensionality reduction of local structure in glassy binary mixtures
– The Journal of Chemical Physics
Multilevel simulation of hard-sphere mixtures.
Perpendicular and parallel phase separation in two-species driven diffusive lattice gases.
Mechanical analysis of a dynamical phase transition for particles in a channel
– Physical Review Research
Disordered Collective Motion in Dense Assemblies of Persistent Particles
– Physical review letters
Role of initial conditions in $1D$ diffusive systems: compressibility, hyperuniformity and long-term memory