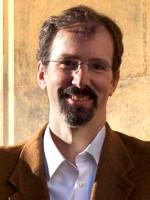 In the last 15 years our research has been focused on the development of methods of characterising the structure, dynamics and interactions of proteins in previously inaccessible states. These methods are based on the use of experimental data, in particular from nuclear magnetic resonance spectroscopy, as structural restraints in molecular dynamics simulations. Through this approach it is possible to obtain information about a variety of protein conformations, as for example those populated during the folding process, and about protein interactions in complex environments, including those generating aggregate species that are associated with neurodegenerative disorders such as Alzheimer's and Parkinson's diseases.
More recently, these studies have led us to investigate the physico-chemical principles of proteins homeostasis and their application to the development of therapeutic strategies against neurodegenerative diseases. Starting from the observation that proteins are expressed in the cell at levels close to their solubility limits, we are developing approaches to prevent or delay misfolding disorders based on the enhancement of our quality control mechanisms against protein aggregation.
Publications
Exploring the role of post-translational modifications in regulating α-synuclein interactions by studying the effects of phosphorylation on nanobody binding
Multistep Inhibition of α-Synuclein Aggregation and Toxicity in Vitro and in Vivo by Trodusquemine
Reversible inhibition of the ClpP protease via an N-terminal conformational switch
– Proceedings of the National Academy of Sciences of the United States of America
Cooperative Assembly of Hsp70 Subdomain Clusters
A method for partitioning the information contained in a protein sequence between its structure and function.
A Rationally Designed Hsp70 Variant Rescues the Aggregation-Associated Toxicity of Human IAPP in Cultured Pancreatic Islet β-Cells.
– International journal of molecular sciences
Cholesterol catalyses A beta 42 aggregation through a heterogeneous nucleation pathway in the presence of lipid membranes
Phase Separation of FUS is Modulated by Methylation State of Cation-π Interactions and Interaction with TNPO1
Parapred: antibody paratope prediction using convolutional and recurrent neural networks
– Bioinformatics (Oxford, England)
Simultaneous Determination of Protein Structure and Dynamics Using Cryo-Electron Microscopy.