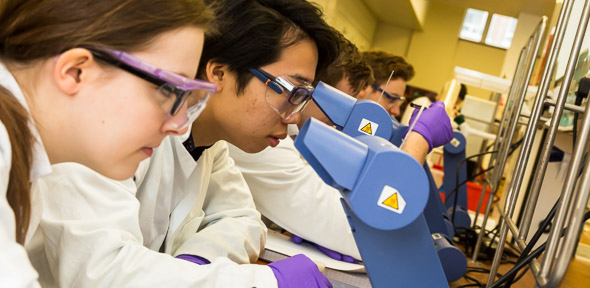 Image courtesy of the Department of Chemistry
The Department of Chemistry will be taking part in the University Open Days on Thursday 5 and Friday 6 July. These offer prospective undergraduates the opportunity to find out what it is like to study here.
On these two days, the University and its Colleges open their doors to prospective applicants in Year 12 (or the equivalent) and prospective mature applicants (aged 21 or over).
If you are considering applying to Cambridge to study chemistry, we encourage you to attend one of the Open Days. (They are free, but advance booking is essential.) They will help you find out about how this subject is offered and taught at Cambridge.
Unlike other UK universities, Cambridge doesn't offer a single-discipline chemistry degree. Instead we offer a broader course called the Natural Sciences Tripos. You can study Natural Sciences on either a three-year (BA) or four-year (MSci) degree course.
Within Natural Sciences, you can make chemistry one of your subjects in the first and second years. Then you can choose to specialise in chemistry in the third (and optional fourth) year if you wish. Many students apply for the Natural Sciences Tripos because they like the idea of being able to study a broader range of options to begin with before refining their choice of science later on.
The Open Days in July will give you the opportunity to learn more about what the University and its departments and colleges have to offer. There will be presentations not only about courses, but also about the application process, student life, and finance.
Here in the Department of Chemistry, we will be offering a sample lecture to give you a taste of the course here. And our Director of Teaching, Dr James Keeler, will be giving talks about the Natural Sciences tripos.
For more details, please see the information here. The full programme for the Open Days will be available in late June.