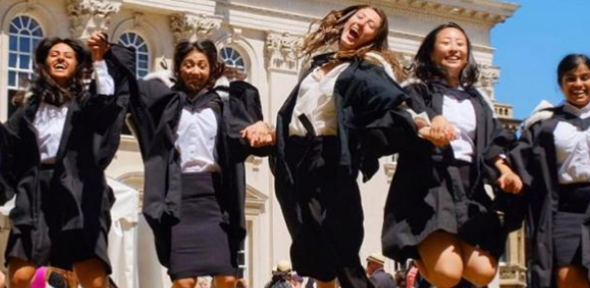 Image: University of Cambridge
67 UK students from under-represented backgrounds who did not originally get into Cambridge will now be coming here to study courses including Natural Sciences after achieving stunning A-level results.
The students are coming via the UCAS system of Adjustment. This is an optional process that allows students who have exceeded the terms of the conditional offer they are holding to refer themselves for consideration by another institution. This is the first year that Cambridge has offered Adjustment places.
Seventy one students from under-represented backgrounds who referred themselves for consideration on A-level results day (15 August) were offered places on courses from English to Computer Science, and 67 accepted. Among them are students who will be studying the Natural Sciences Tripos - the course within which most of the sciences (including Chemistry) are taught in Cambridge.
City & Islington College student Kaan Evcimen will be studying Natural Sciences at Trinity Hall after gaining his place through Adjustment. He said: "Getting into Cambridge was simply a dream, which is now somehow reality - I'm super grateful for the opportunity and I'm excited to get started with studying the subject I love at the best university in the world."
Dr Sam Lucy, Director of Admissions for the Cambridge Colleges, said: "When we announced the Adjustment scheme, we received many emails from students saying the second chance of a place at Cambridge was inspiring them to work even harder to achieve the best A-level results they could.
"It is wonderful to see that so many who may not have managed to show their full academic potential during the main Admissions round have gone on to excel at A-level due to their hard work and determination."
She added: "We are delighted to have been able to offer so many of them a place at Cambridge in the pilot year of Adjustment and hope that more disadvantaged students will make an application to Cambridge in future years with the knowledge that this route will also be available to them."
Each student who applied under the Adjustment scheme had to meet at least three criteria (known as 'contextual flags') demonstrating they have not had the same educational advantages as others.
Competition for Cambridge's approximate 3,500 undergraduate places grows fiercer each year, with more than 14,000 students who apply not being made an offer.
Adjustment is the latest in a series of schemes aimed at boosting diversity, with generous financial assistance available through the Cambridge Bursary Scheme and via Colleges bursaries, a Bridging Programme being introduced at Corpus Christi College next year and a University-wide Transition Year programme set to launch in 2022.