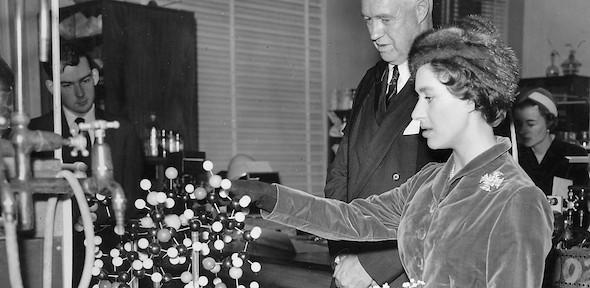 The Queen's younger sister, Princess Margaret (shown with Lord Todd), opened the new Chemistry Laboratory on Lensfield Road in 1958.
Monday, September 12, 2022
The Yusuf Hamied Department of Chemistry is deeply saddened to hear of the death of Her Majesty The Queen.
The Queen and her family members visited the University and Colleges on numerous occasions during her reign. The Queen's younger sister, Princess Margaret, opened the new Chemical Laboratory on Lensfield Road in 1958 and the Queen's husband, Prince Philip, Duke of Edinburgh, was an enthusiastic and supportive Chancellor from 1976 to 2011.
Vice-Chancellor Professor Stephen J Toope said: "This news brings great sorrow for the United Kingdom as a whole, for the Commonwealth, and most particularly for members of the Royal Family, to whom we extend our heartfelt condolences.
"Her Majesty The Queen's reign defined the United Kingdom of the 20th and early 21st centuries. Her Majesty's devotion to public service and the common good, her dignity, her sense of duty and her strong moral compass, will always be an inspiration."
Emeritus Vice-Chancellor Professor Sir Leszek Borysiewicz said: "I had the privilege of meeting Her Majesty The Queen on several occasions. When she opened buildings and attended major events in Cambridge, she always engaged warmly with our staff and students as well as showing a continued interest in the University.
"On each occasion it was an honour and pleasure to meet with her, particularly in the knowledge that she always valued Cambridge University's contribution to the education and wellbeing of the United Kingdom and Commonwealth."
Below: The Duke of Edinburgh visits the Department in his role as Vice Chancellor of the University of Cambridge.