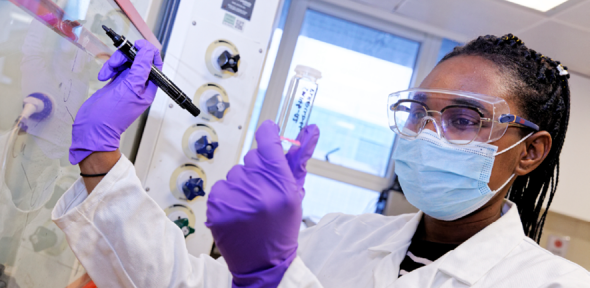 Sandile Mtetwa, courtesy @University of Cambridge
Thursday, October 20, 2022
Final year PhD student, Sandile Mtetwa, experienced a lot of power cuts during her undergraduate years at the University of Zimbabwe, which got her thinking about energy and sustainability.
For example, hydrogen. This element is a clean fuel as, when consumed for energy, its waste product is water instead of greenhouse gases. Hydrogen can be extracted from many sources, such as water using electrolysis, but that requires electrical energy.
Mtetwa is preparing a comprehensive database of metal-organic frameworks (MOFs) with the aim of categorising substances that can capture hydrogen gas. MOFs are structures which are often porous and this property can be employed to separate and capture gases. Often, MOFs are in powder form so Mtetwa's novel research includes testing the capabilities of monolithic MOFs, with Dr Andrew Wheatley's group. Monolithic MOFs have more potential in industry compared to powders because engineers have more freedom when designing structures. "MOFs have some pretty cool properties, such as variable conductivity in the presence of different gases," comments Mtetwa. "This could be used for toxin sensing further down the line which is an exciting prospect."
Mtetwa isn't certain exactly how her future will look, but is certain on one thing: accessible and sustainable energy. "My ultimate goal is to be able to influence energy policy-making. Getting the best scientific ideas into the real-world conversation is what will drive progress on."
Yet, as an undergraduate, things could have been very different. "I didn't think that I would get into Cambridge but the Gates scholarship is what actually made me apply. I fit the criteria. "The sorts of people that the Gates scholarship attracts are a diverse mix, and also people who are really involved in other things besides being an academic."
And Mtetwa has packed her time in Cambridge to the brim. In 2018, as the president of the African Society of Cambridge University, Mtetwa hosted the Africans Together conference. Here, she saw a need for a more specialist space that catered for Africans in STEM. This led to the founding of Africans in STEM, an organisation that uplifts the profiles of African scientists and hosts an annual symposium. "When I was schooling in Zimbabwe, I could barely tell you the name of an African who did something scientifically or invented something.""So we decided to curate profiles of people historically and currently, including students at Cambridge, who are doing amazing research." The symposium was held in April 2022 at the Maxwell Centre.