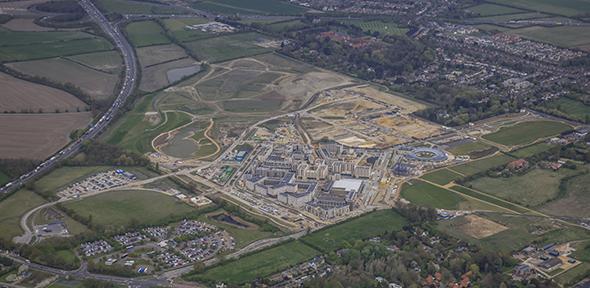 Courtesy University of Cambridge
A showcase of Eddington, the University of Cambridge's new district in North West Cambridge, will take place as part of Open Cambridge on Saturday 9 September.
Eddington is the heart of the North West Cambridge Development, located between Madingley Road, Huntingdon Road and the M11. Under Vice-Chancellor Sir Leszek Borysiewicz, Cambridge has made support for the postdoctoral community a priority, and much of the new campus has been built to provide dedicated accommodation for key workers in the University, primarily postdoctoral researchers.
"Open Eddington" will feature over 25 different events led by the renowned architects, professionals, and development partners who have all contribute to creating this new place. The opening of Eddington marks years of planning and construction with the first phase of the project now open to residents and the local and wider community.
Heather Topel, Project Director of the North West Cambridge Development said: "We are thrilled to present a whole day of activities and events for the public that illustrate the depth and breadth of our project ethos.  The University's ambitions to create a sustainable community of exceptional design quality at Eddington have been explicit, and at Open Eddington, we are delighted that so many of our project architects, consultants and partners will share with you the detail of their involvement in this exemplar development. We hope many of our friends, neighbours and supporters will take the time to join us for this occasion."
The Open Cambridge weekend takes place on 8-9 September, and bookings open at 11am on 14 August. For details, see www.opencambridge.cam.ac.uk or call 01223 766766. All events listed as part of Open Eddington are free. 
A fuller version of this article and further information on other Open Cambridge events can be found on the University of Cambridge website.