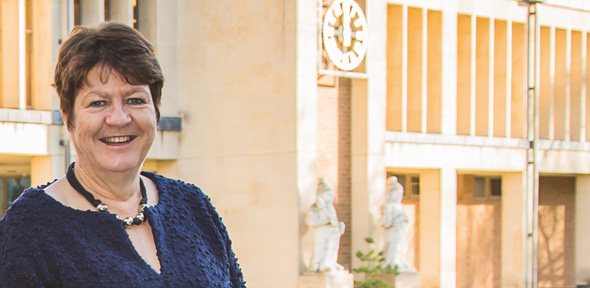 Lucy Cavendish Honorary Fellow, Professor Jane Clarke FRS becomes the sixth President of Wolfson College and the first female president of Wolfson College.
Jane starts her tenure in October 2017, she succeeds Professor Sir Richard Evans FBA. Her appointment brings the number of female College Presidents at the University of Cambridge up to 11 out of 31.
Jane is Professor of Molecular Biophysics and Senior Wellcome Trust Research Fellow in the Department of Chemistry. She began her career in science as a teacher in a comprehensive school. Later she moved, with her family, to the USA where she took a master's degree that kick-started her new career in research.
We celebrated Professor Clarke's appointment as Honorary Fellow at Lucy Cavendish College in March 2016, when she gave a lecture as part of the Cambridge Science Festival. She spoke about her work in biophysical and structural studies of protein folding. She also discussed the obstacles she encountered and why she is passionate about ensuring girls and young women have every opportunity to pursue a career in science.
President of Lucy Cavendish College, Jackie Ashley said: "We are thrilled to hear news of this well-deserved appointment, and I look forward to working closely with Professor Clarke in the future."