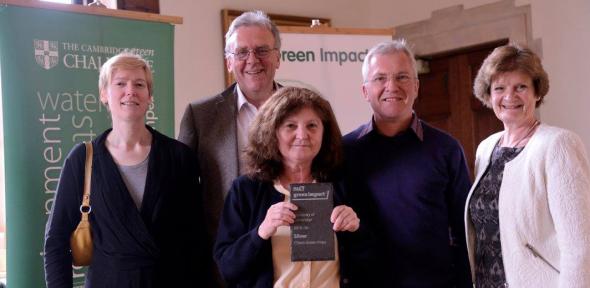 From left, Catherine Pitt, Tim Dickens, Ana Belenguer & Richard Turner accept the Green Impact Silver Award from Dame Fiona Reynolds (right), courtesy Phil Mynott Photo.
The Department has been awarded a Green Impact Silver Award.
The 'Chemistry Green Imps' team, led by Dr Richard Turner, have been working to achieve the Green Impact Silver Award, after gaining Bronze in 2014-15.
Green Impact, an NUS programme coordinated by the Environment and Energy section of the University, is an environmental accreditation scheme aimed at encouraging individual departments and colleges to reduce their impact on the Planet. To gain the Silver Award, the team had to demonstrate cultural and behavioural changes within the department across a range of areas, from waste management to laboratory practice to travel. 
Richard, who provides analytical, chemical detection and synthesis equipment support to the Ley research group said, "I am so happy to be part of this winning team and for achieving this! Congratulations and thanks to everyone for your efforts and support, both large and small."
The Silver Award was presented by Dame Fiona Reynolds at the  Green Impact Awards Ceremony on 2 June 2016 at the Old Schools Combination Room.