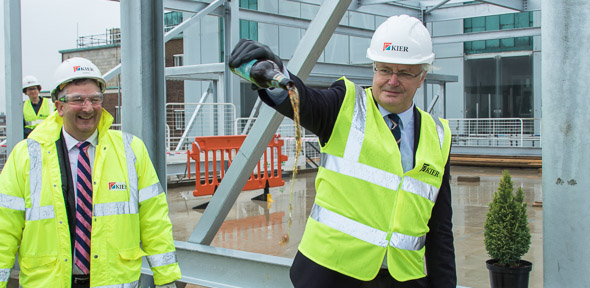 Professor Chris Dobson celebrates the topping out of the Chemistry of Health building with the traditional bottle of beer. Dennis Cotton, Kier Construction enjoys the moment.
The Chemistry of Health building, being constructed at the back of the Department of Chemistry on Union Road, Cambridge has reached its highest point. To mark the achievement a topping out ceremony was held on the rooftop.
Guests at the event included the principal contractor Kier Construction Ltd., Head of Department, Professor John Pyle, CMD co-directors Professors Chris Dobson, Tuomas Knowles and Michele Vendruscolo and the project team Ramboll & R H Partnership architects.
Suitably dressed in boots, hardhats and hi-vis jackets the party took a tour of the building site then headed up to the roof where they watched as the final bolt was fitted to the building's steel frame.
Dennis Cotton, Operations Director at Kier Construction Eastern, thanked the project team for their incredible progress rate. He said: "Kier is proud to be delivering a project that will drive forward research that could change medication and treatment for future generations."
The £22.8 million four-storey building will provide space for the study of neurodegenerative disorders such as Parkinson's and Alzheimer's. The new 2,600sq m facility will be connected to the existing chemistry building in Lensfield Road and will house the Centre for Misfolding Diseases (CMD), a Chemistry of Health Incubator, and the Molecular Production and Characterisation Centre (MPACC).
As part of the ceremony, Professor Chris Dobson gave a symbolical 'nod' to the workers by pouring a bottle of Elgood's Cambridge Bitter on the building after which free sparkling wine was served in place of the more traditional beer. The assembled group appeared delighted with the proceedings.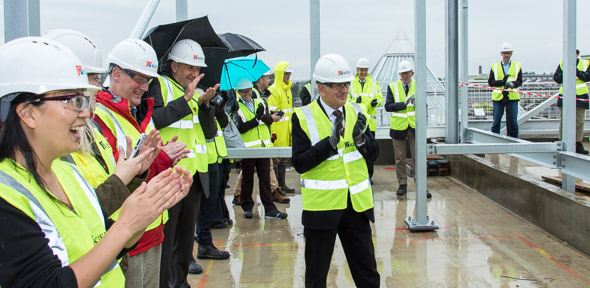 Professor John Pyle said: "It is a fantastic development that will enable us to translate our research into future treatments to combat some of these devastating neurodegenerative conditions."
The Chemistry of Health building is due to open in summer 2018.