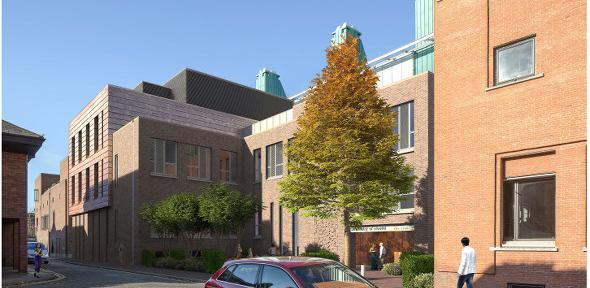 Artist's Impression of new building courtesy Department of Chemistry
Tuesday, February 16, 2016
A major milestone for the new Chemistry of Health Centre was reached on 3 February when the Cambridge Planning Committee unanimously approved the department's planning permission application.
The £22.8 million Chemistry of Health Centre will be located on the south side of the existing building on Lensfield Road, and will house the Centre for Protein Misfolding Diseases, which conducts research into Alzheimer's, Parkinson's, type II diabetes, and other related diseases.
The building will also house a Chemistry of Health Incubator and the Molecular Production and Characterisation Centre. 
These facilities will not only enable fundamental discoveries in the molecular processes underlying human disease, but will also promote their translation into clinical and commercial applications.
The department has received major support and funding of £17.6 million from the UK Research Partnership Investment Fund.