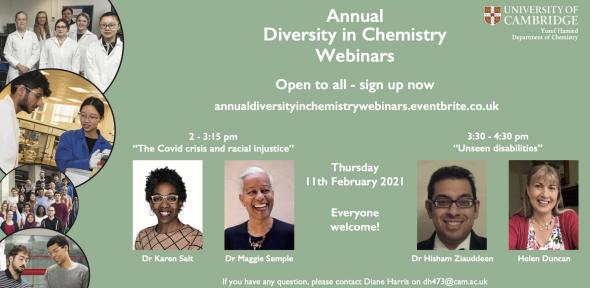 Sign up now for these topical webinars
Wednesday, January 6, 2021
Our annual Diversity in Chemistry event has moved online to two interactive webinars on 11 February.
Our exciting and knowledgeable speakers will cover timely and relevant topics, with plenty of opportunity for audience participation and questions.
The first webinar, starting at 2pm, will feature Dr Karen Salt and Dr Maggie Semple on the live issue of "The Covid Crisis and Racial Injustice."
At the second webinar, starting at 3:30pm, Dr Hisham Ziauddeen and Helen Duncan will discuss "Unseen Disabilities."
The Covid crisis and racial injustice 2 pm - 3:15 pm 11 February
Has Covid-19 amplified racial discrimination or is it an opportunity for change?
Two thought leaders will discuss how Covid-19 has impacted systemic racial discrimination and whether this is a hidden opportunity. This will be an interactive discussion with plenty of opportunity for questions, introduced and hosted by Melinda Duer, Professor of Biological and Biomedical Chemistry, University of Cambridge.
Dr Karen Salt is UK Research and Innovation Deputy Director for Culture and Environment, and Deputy Chair of UKRI's External Advisory Group for Equality, Diversity and Inclusion. Dr Maggie Semple is a successful businesswoman and entrepreneur who led the University of Cambridge Reverse Mentoring programme.
Unseen disabilities 3:30 pm - 4:30 pm
Two experts will give an overview of how unseen disabilities impact the workplace, and how supervisors and colleagues can help without being intrusive.
Dr Hisham Ziauddeen is a Consultant psychiatrist, University Wellbeing and Disability Champion, and occasional stand-up comedian. Helen Duncan is a Senior Neurodiversity Adviser, University of Cambridge Disability Resource Centre, qualified teacher and diagnostic assessor for specific learning difficulties and ADHD.
Register now
One registration covers both webinars; join either or both as you wish on the day. Registration is free via Eventbrite.