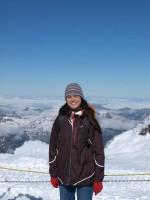 I am a research associate in Professor John Pyle's group in the Centre for Atmospheric Science, and co-ordinator for the Cambridge Centre for Climate Science (CCfCS). For 18 months until November 2013 I was also a NERC policy placement fellow, advising Defra on air quality modelling. 
I use computer models (pTOMCAT, a global 3D chemical transport model; NAME, a Lagrangian particle dispersion model; and CiTTyCAT, a Lagrangian photochemical model) combined with field observations to study atmospheric composition, processing and transport.
Research Interests
The quantification of different processes acting on the composition of an air mass during its transport
Using measurements in combination with models to improve our understanding of atmospheric composition 
How to represent small-scale processes (e.g. chemistry) in a global model
How to represent mixing in a Lagrangian model
The quantification of the magnitude and variability of methane emissions in the Arctic
The role of nighttime chemistry in relation to daytime chemistry, and the roles of gas-phase and heterogeneous chemistry at night.
Projects I work on/have worked on:
MAMM: Methane and other greenhouse gases in the Arctic – Measurements, process studies and Modelling.
RONOCO: the Role Of Nighttime chemistry in controlling the Oxidising Capacity of the atmOsphere
AMMA: African Monsoon Multidisciplinary Analyses
ITCT-2k4: Intercontinental Transport and Chemical Transformation 2004.
I am also interested in science communication and am the knowledge exchange representative for the MAMM project. Follow our activities on the MAMM project blog: http://arcticmethane.wordpress.com. 
I enjoy getting involed in all kinds of science communication activities, from open days with hands on activities to shcools lectures to writing articles and blogs for a more general audience. Here is a selection of some of the activities I've worked on:
Arctic methane: What's the story? (13 August 2013)
Tag – you're it! Chasing atmospheric tracers (22 March 2013)
Stock market crash hits EGU General Assembly shocker! (2 May 2012)
Megacities at EGU2012 (26 April 2012)
Featured on the 

Kung Fu Science web site,

including videos discussing and demonstrating the physics behind breaking boards. Also featured in a

4 minute piece

with BBC 1 for The One Show, which was broadcast on 18 February 2009.  

Given schools lectures on air quality and climate change, and the physics of kung fu.
Find me on twitter @civiltalker, and sporadically on my personal blog and my Experiments of a culinary chemist blog.
CV
2012-2013: NERC policy placement fellow at Defra. 
2009-present: PDRA at University of Cambridge.
2005-2009: University of Reading, PhD in Meteorology. Supervised by Dr John Methven and Dr Eleanor Highwood.
2002-2005: Communications officer at the Institute of Physics. 
1998-2002: University College London, MSci in Astrophysics, first class honours