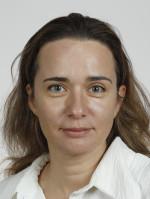 Senior Research Associate

Postdoctoral research Associate in the group of Professor Rod Jones at 
the Centre for Atmospheric Science (2014-now). LC has an extensive 
background in indoor air quality measurements in schools, personal 
exposure in cardio-pulmonary cohorts and outreach activities including a 
report for the Mayor of London. LC has led the air quality monitoring 
and the interpretation of the measurements in a number of national and 
international epidemiological projects (i.e. COPE, AIRLESS). She was 
responsible for the development of portable miniaturised sensing 
platforms making her work cutting-edge in the fields of air quality 
measurements, activity profiling and quantification of health impacts. 
She has about 30 peer reviewed publications, book chapters and national 
scientific assessments.