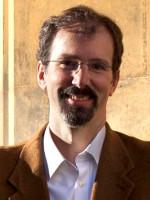 In the last 15 years our research has been focused on the development of methods of characterising the structure, dynamics and interactions of proteins in previously inaccessible states. These methods are based on the use of experimental data, in particular from nuclear magnetic resonance spectroscopy, as structural restraints in molecular dynamics simulations. Through this approach it is possible to obtain information about a variety of protein conformations, as for example those populated during the folding process, and about protein interactions in complex environments, including those generating aggregate species that are associated with neurodegenerative disorders such as Alzheimer's and Parkinson's diseases.
More recently, these studies have led us to investigate the physico-chemical principles of proteins homeostasis and their application to the development of therapeutic strategies against neurodegenerative diseases. Starting from the observation that proteins are expressed in the cell at levels close to their solubility limits, we are developing approaches to prevent or delay misfolding disorders based on the enhancement of our quality control mechanisms against protein aggregation.
Publications
Identification and characterization of PKCγ, a kinase associated with SCA14, as an amyloidogenic protein.
H Takahashi, N Adachi, T Shirafuji, S Danno, T Ueyama, M Vendruscolo, AN Shuvaev, T Sugimoto, T Seki, D Hamada, K Irie, H Hirai, N Sakai, N Saito – Hum Mol Genet
(2014)
Equilibrium simulations of proteins using molecular fragment replacement and NMR chemical shifts
W Boomsma, P Tian, J Frellsen, J Ferkinghoff-Borg, T Hamelryck, K Lindorff-Larsen, M Vendruscolo – Proceedings of the National Academy of Sciences of the United States of America
(2014)
111,
13852
NMR characterisation of the conformational fluctuations of the human lymphocyte function associated antigen-1 i domain.
HT Leung, P Kukic, C Camilloni, F Bemporad, A De Simone, FA Aprile, JR Kumita, M Vendruscolo – Protein Science
(2014)
n/a
Cyclophilin A catalyzes proline isomerization by an electrostatic handle mechanism.
C Camilloni, AB Sahakyan, MJ Holliday, NG Isern, F Zhang, EZ Eisenmesser, M Vendruscolo – Proceedings of the National Academy of Sciences of the United States of America
(2014)
111,
10203
Statistical mechanics of the denatured state of a protein using replica-averaged metadynamics
C Camilloni, M Vendruscolo – Journal of the American Chemical Society
(2014)
136,
8982
The amyloid state and its association with protein misfolding diseases.
TP Knowles, M Vendruscolo, CM Dobson – Nature Reviews Molecular Cell Biology
(2014)
15,
384
Analysis of the hierarchical structure of the B. subtilis transcriptional regulatory network
S Kumar, M Vendruscolo, A Singh, D Kumar, A Samal –
(2014)
A Tensor-Free Method for the Structural and Dynamical Refinement of Proteins using Residual Dipolar Couplings.
C Camilloni, M Vendruscolo – J Phys Chem B
(2014)
140604095234004
Archaeal MBF1 binds to 30S and 70S ribosomes via its helix-turn-helix domain.
F Blombach, H Launay, AP Snijders, V Zorraquino, H Wu, B de Koning, SJ Brouns, TJ Ettema, C Camilloni, A Cavalli, M Vendruscolo, MJ Dickman, LD Cabrita, A La Teana, D Benelli, P Londei, J Christodoulou, J van der Oost – Biochem J
(2014)
462,
373
Solution conditions determine the relative importance of nucleation and growth processes in α-synuclein aggregation
AK Buell, C Galvagnion, R Gaspar, E Sparr, M Vendruscolo, TP Knowles, S Linse, CM Dobson – Proceedings of the National Academy of Sciences of the United States of America
(2014)
111,
7671