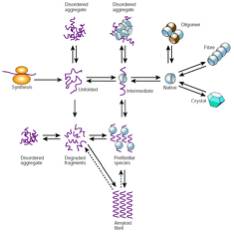 The overall objective of our research is to understand the principles governing protein homeostasis – the ability of cells to generate and regulate the levels of proteins in terms of conformations, interactions, concentrations and cellular localisation. By adopting the strategy of analysing the origins of specific diseases to inform us about normal biology, we have set up an interdisciplinary programme that involves bringing together methods and concepts from chemistry, physics, engineering, genetics and medicine. We are using a combination of in vitro, in silico and in vivo approaches to study protein homeostasis through the analysis of the effects that result from its alteration in a select group of specific proteins, from either amino acid mutations, or changes in concentration and solubility, or the interactions with other molecules.
This programme is generating new insights into the mechanism through which physical and chemical sciences can address biological questions in order to understand the normal behaviour of living systems. In addition it is increasing our understanding of the nature and consequences of the failure to maintain homeostasis, which is associated with such phenomena as ageing and neurodegenerative disorders.
Publications
Identification and characterization of PKCγ, a kinase associated with SCA14, as an amyloidogenic protein.
H Takahashi, N Adachi, T Shirafuji, S Danno, T Ueyama, M Vendruscolo, AN Shuvaev, T Sugimoto, T Seki, D Hamada, K Irie, H Hirai, N Sakai, N Saito – Hum Mol Genet
(2014)
Equilibrium simulations of proteins using molecular fragment replacement and NMR chemical shifts.
W Boomsma, P Tian, J Frellsen, J Ferkinghoff-Borg, T Hamelryck, K Lindorff-Larsen, M Vendruscolo – Proceedings of the National Academy of Sciences of the United States of America
(2014)
NMR characterisation of the conformational fluctuations of the human lymphocyte function associated antigen-1 i domain.
HT Leung, P Kukic, C Camilloni, F Bemporad, A De Simone, FA Aprile, JR Kumita, M Vendruscolo – Protein Science
(2014)
n/a
Cyclophilin A catalyzes proline isomerization by an electrostatic handle mechanism.
C Camilloni, AB Sahakyan, MJ Holliday, NG Isern, F Zhang, EZ Eisenmesser, M Vendruscolo – Proceedings of the National Academy of Sciences of the United States of America
(2014)
111,
10203
Statistical mechanics of the denatured state of a protein using replica-averaged metadynamics
C Camilloni, M Vendruscolo – Journal of the American Chemical Society
(2014)
136,
8982
The amyloid state and its association with protein misfolding diseases.
TP Knowles, M Vendruscolo, CM Dobson – Nature Reviews Molecular Cell Biology
(2014)
15,
384
Analysis of the hierarchical structure of the B. subtilis transcriptional regulatory network
S Kumar, M Vendruscolo, A Singh, D Kumar, A Samal –
(2014)
A Tensor-Free Method for the Structural and Dynamical Refinement of Proteins using Residual Dipolar Couplings.
C Camilloni, M Vendruscolo – J Phys Chem B
(2014)
140604095234004
Archaeal MBF1 binds to 30S and 70S ribosomes via its helix-turn-helix domain.
F Blombach, H Launay, AP Snijders, V Zorraquino, H Wu, B de Koning, SJ Brouns, TJ Ettema, C Camilloni, A Cavalli, M Vendruscolo, MJ Dickman, LD Cabrita, A La Teana, D Benelli, P Londei, J Christodoulou, J van der Oost – Biochem J
(2014)
462,
373
Solution conditions determine the relative importance of nucleation and growth processes in α-synuclein aggregation
AK Buell, C Galvagnion, R Gaspar, E Sparr, M Vendruscolo, TP Knowles, S Linse, CM Dobson – Proceedings of the National Academy of Sciences of the United States of America
(2014)
111,
7671