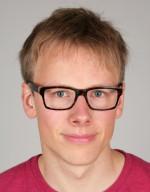 It is impossible to observe all the bright and brilliant colours in nature without demanding explanation! My research focuses on understanding the optical mechanisms governing colouration in natural photonics and biomimetic ditto. My work takes outset in Maxwell's equations from which light propagation and interaction is studied. This involves numerical simulations using FEM, FDTD and the transfer matrix method for multilayers and spherical particles. Theories not directly complying with Maxwell's equations like radiative transfer and scalar diffraction theory are also used when appropriate.
At the moment I work on understanding light reflection from flower petals and bacteria formations.
Publications
Topology optimization of microwave waveguide filters
– International Journal for Numerical Methods in Engineering
Reproducing the hierarchy of disorder for Morpho-inspired, broad-angle color reflection.
Simulation of reflectance from white-anodised aluminium surfaces using polyurethane–TiO<inf>2</inf> composite coatings
– Journal of Materials Science
Designing visual appearance using a structured surface
Preparing the generalized Harvey-Shack rough surface scattering method for use with the discrete ordinates method
– Journal of the Optical Society of America. A, Optics, image science, and vision
Appearance of anodised aluminium: Effect of alloy composition and prior surface finish
– Surface and Coatings Technology
Optical role of randomness for structured surfaces.
Design of structurally colored surfaces based on scalar diffraction theory
– Journal of the Optical Society of America B
Inverse design of nanostructured surfaces for color effects
– Journal of the Optical Society of America B
A 200 line topology optimization code written in Python